To sign up for the Non- Theatrical / Educational Newsletter, please send us your email address and you'll be added to our list.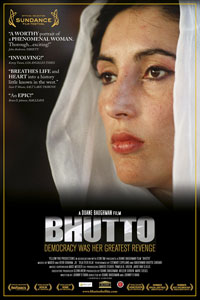 BHUTTO
Director - Duane Baughman & Johnny O'Hara
Run Time - 111 minutes
Language - English
Format - DVD
Year - 2010
Genre - Documentary
Educational Interest- Asia, Biographies/Profiles, Family Relations, History (World), Islam, Middle East, Political Science, Women's Studies
Institutional DVD Price: $295
A recent Sundance world premiere, Bhutto tells the epic story of one of the most fascinating characters of our time-- Benazir Bhutto, the first woman in history to lead a Muslim nation. A favored daughter of the family often called the "Kennedys of Pakistan," Benazir was elected Prime Minister after her father was overthrown and executed by his own military. Her two terms in power saw extreme acts of courage and controversy as she tried to clean up Pakistan's corrupt political culture while quelling the fires of radical Islam that threaten to engulf the region. A fascinating array of archival footage and interviews with family members and leading experts brings life to this tale of Shakespearean dimension in the country the Economist calls "the World's most dangerous place."
"Breathes life and heart into a history little known in the west." - Sean P. Means, Salt Lake Tribune