The Story of Tim DeChristopher, Who Served 21 Months for a Single Act
That Protected Pristine Utah Park Land from an Illegal Land Sale to Big Oil




OPENS IN NEW YORK CITY ON MAY 17 AT QUAD CINEMA
OPENS JUNE 7 IN LOS ANGELES AT LAEMMLE MUSIC HALL

Tim DeChrisopher and filmmakers will appear for a Q&A
following the Friday and Saturday 7:10pm shows
and are also available for interviews


"He just did what he thought was his constitutional right..." - Robert Redford

"A shocking look at how far the energy industry and the government will go
to crush just one voice." - Michael Moore

WINNER OF 18 FILM FESTIVAL AWARDS INCLUDING BEST AMERICAN FILM
AT MICHAEL MOORE'S TRAVERSE CITY FILM FESTIVAL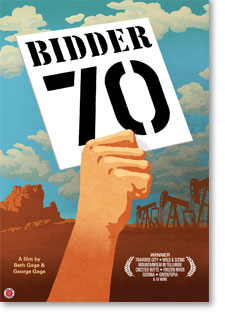 In 2008, as George W. Bush tried to gift the energy and mining industries thousands of acres of pristine Utah wilderness via a widely disputed federal auction, college student Tim DeChristopher decided to monkey-wrench the process. Bidding $1.7 million, he won 22,000 acres with no intention to drill. For this astonishing (and successful) act of civil disobedience he was sent to federal prison. Beth and George Gage's new documentary BIDDER 70 tells the story of this peaceful warrior whose patriotism and willingness to sacrifice have ignited the climate justice movement.

At a time when the debate over climate change is finally gaining post-election "steam," when hot-button topics such as fracking and the Keystone XL Pipeline have captured the country's attention, BIDDER 70 is poised to showcase the face and voice of a movement that has been steadily gathering force, particularly among millenials, who have grave concerns over the future of a livable world - as well as its present.

In 2008, DeChristopher, a University of Utah economics student, disrupted a Bureau of Land Management auction of pristine Utah land surrounding national parks by outbidding other attendees, effectively preserving thousands of acres slated for lease to oil and gas industry giants. Although incoming Interior Secretary Ken Salazar subsequently invalidated the auction (thereby saving over 100,000 acres of land), DeChristopher was indicted on two felony counts and sentenced to two years in federal prison.

While awaiting trial, the 27-year-old environmentalist stepped up his activism, co-founding the organization Peaceful Uprising and leading an occupation of the Department of the Interior in Washington, DC. His nearly five-year odyssey from a single act of civil disobedience to finally free environmental hero, documented in the Gages' film, has garnered not only national press attention but also the support of such well-known figures as Nobel prize-winning scientist Terry Root, PhD; author, conservationist and activist Terry Tempest Williams, and filmmaker Robert Redford; all of whom appear in the film, alongside a number of other high-profile community leaders and activists.
Watch the trailer here>

Beth and George Gage, through their production company Gage & Gage Productions, make compelling personal films that enlighten and empower viewers, initiate dialogue and prompt action on provocative issues. Some of the highlights are FIRE ON THE MOUNTAIN: The Story of the Men of the 10th Mountain Division, AMERICAN OUTRAGE, TROUBLED WATERS: The Effects of Dams on Rivers, and now BIDDER 70.
Contact kelly.hargraves@firstrunfeatures.com to request a screener
*In an effort to go green, we're no longer automatically sending paper press materials along with screeners
or at press screenings. If you would like us to send a paper press kit with your screener, please let us know.
BIDDER 70
73 minutes, 2013
Produced and Directed by Beth Gage and George Gage
Director of Photography: George Gage
Writer: Beth Gage
Editor: Ryan Suffern
Original Music: Paul Pilot
Production Manager: Eliza Slayman
Sound Editor and Mixer: John Reese
Press kit, photos, & more available at www.firstrunfeatures.com/bidder70_press.html