Two New Films from the Global Lens Collection

KEPT AND DREAMLESS
&
BUNNY CHOW

Available on DVD May 19, 2009


First Run Features is proud to announce the upcoming DVD releases of the two latest titles from the renowned Global Lens Collection – Kept and Dreamless and Bunny Chow, both coming to DVD on May 19, 2009.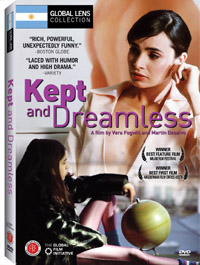 Set during Argentina's economic crisis of the '90s, Vera Fogwill and Martín Desalvo's new film Kept and Dreamless introduces us to nine year-old Eugenia and her mother, Florencia, who live a seemingly colorful life surrounded by eclectic neighbors and an offbeat collection of family. But for Eugenia, who must deal with her mother's dysfunctional and drug-addled lifestyle, life is anything but pleasant in this darkly inspiring story of expectation, acceptance and nontraditional family, led by standout performances from director Vera Fogwill and young actress Lucía Snieg.
Born in Buenos Aires, Vera Fogwill has worked as an actress since the age of fourteen. She has won numerous awards, including a Silver Condor from the Argentine Cinematographic Critic Association for her performance in Buenos Aires Vice Versa (1996). A playwright since the age of fifteen, Fogwill has written several award winning plays, including "The Fierce Ones." In 2003, she was selected to attend the First Global Meeting of Young Moviemaking at the Berlin International Film Festival. Kept and Dreamless is her first feature film.
Also a native of Buenos Aires, Martín Desalvo studied Image & Sound Design at the University of Buenos Aires and cinematography at the Universidad del Cine and the Video and Cinema Investigation and Experimentation Center (CIEVYC). As a student, he produced several short films, including Another One, which was awarded Best Short Film and Best Photography by CIEVYC. He is the author of the cinematographic book, El Yogui (2003) and the documentary script The Whore at the Cemetery (2001). Kept and Dreamless is his first feature film.
DVD Bonus Features • Director's Notes • Director Biography • Production Notes
WINNER! Best Feature Film, Milan Film Festival
WINNER! Best First Film, Argentine Film Critics Association
"Matching style and originality with a refreshing lack of moralizing, Kept and Dreamless keeps the banner of Argentinean independent cinema flying high." – VARIETY
"A charming film with a flair for comedic melodrama and an irreverent knowingness that bears comparison to Fassbinder and Almodóvar." – AMERICAN FILM INSTITUTE
In Bunny Chow, the debut feature from director John Barker, up-and-coming comedians Kags, Joey and Dave make clear that life in the 'new' Johannesburg is not just about hardship and townships. It's also about finding humor in relationships, hanging out with friends and celebrating life on a raucous roadtrip to Oppi Koppi – South Africa's largest music festival.
Shot in a cinema vérité style and using the street food 'bunny chow' as a metaphor for contemporary Johannesburg's mix of races, cultures and attitudes, Barker's edgy, urban comedy asks us to envision a nation through the eyes of its future, rather than the tragedy of its past.
John Barker was born in Durban, South Africa and studied and worked as a graphic designer before working in the film industry. He has directed various productions, such as the sketch comedy show, The Pure Monate Show, the South African Music Awards, and South Africa's first mockumentary, Blu Cheez (2002). Bunny Chow is his first feature film.
DVD Bonus Features • Director's Notes • Director Biography
"This slice of life picture has a stylish, youthful energy, recalling early Spike Lee."
– HOLLYWOOD REPORTER
"One of the freshest, most original and certainly bravest South African comedies to emerge in the last decade." – SATURDAY STAR
"A fun, rowdy portrait of the melting pot that is contemporary, post-Apartheid, post-Truth and Reconciliation Johannesburg, capturing a laid-back generation where races mix freely and everyone is looking for a thrill." – TORONTO FILM FESTIVAL DAILY




Both Kept and Dreamless and Bunny Chow are part of the annual traveling film series sponsored by the Global Film Initiative. GFI was founded in 2002 to promote cross-cultural understanding through cinema. For more about GFI, visit globalfilm.org.
KEPT AND DREAMLESS (Las Mantenidas Sin Sueños)
A film by Vera Fogwill and Martin Desalvo
94 minutes, color, Spanish w/English subtitles, 2005
UPC: 720229913768 • Catalog #: FRF 913768D • SRP: $24.95
BUNNY CHOW
A film by John Barker
95 minutes, color, English & Afrikaans w/English subtitles, 2006
UPC: 720229913775 • Catalog #: FRF913775D • SRP: $24.95