Can a psychedelic plant release your demons?
I'M DANGEROUS WITH LOVE
An underground adventure into shamanic ritual
Opens at New York's IFC Film Center on Wednesday January 12, 2011
Filmmakers and film subjects will be in attendance
and are available for interviews.

"Bursts on the screen like a circus fire. A movie you'll never forget."
- D A Pennebaker & Chris Hegedus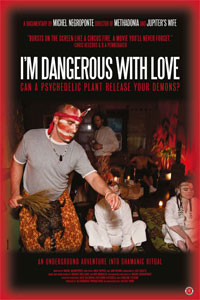 I'M DANGEROUS WITH LOVE is about addiction and rehabilitation, activism and shamanism. It features Dimitri Mugianis, once the heavily addicted front man for the band Leisure Class, who finally ended his long drug and alcohol addiction with an experimental treatment that uses the hallucinogen Ibogaine, and now devotes his life to helping others overcome addiction through the treatment.
I'M DANGEROUS WITH LOVE will open in New York at the IFC Film Center on January 12, 2011, with other cities to follow. First Run Features will release the film on DVD in Spring 2011.
African shamans have used Ibogaine in their rituals for centuries, but in the US it is classified as a Schedule 1 controlled substance and illegal, so Dimitri must work in underground networks to guide addicts through the same detox that he says saved his life.
I'M DANGEROUS WITH LOVE traces Dimitri's risky journey as he treats desperate drug users. It follows this man of edgy energy as he goes from one addict to the next without stopping to catch his breath. It also follows him on his own search for recovery when one session goes bad in a remote snowed-in Canadian home, and a quiet young man almost dies. Dimitri must decide whether or not to continue his mission. Is he serving the addicts or simply releasing his own demons? To find answers, Dimitri travels to Gabon, West Africa, to consult with Bwiti shamans, and puts himself through a punishing Iboga initiation. Filmmaker Michel Negroponte follows him on this journey to find his own answers.

Director Michel Negroponte is an Emmy award-winning filmmaker with such directing credits as "Space Coast," "Silver Valley," "Jupiter's Wife", "No Accident," "W.I.S.O.R." and "The Sightseer." His feature length documentary, "Methadonia," premiered at the New York Film Festival in September 2005 and was aired on HBO in the United States a few weeks later. In 1995, "Jupiter's Wife" was awarded a Special Jury Prize at the Sundance Film Festival and the Grand Prize for Best Feature Documentary at the Vancouver Film Festival and the Santa Barbara Film Festival. The film was also awarded an Emmy for Outstanding Individual Achievement in Documentary.
In addition to his own work, he has worked in a producing capacity on many other films, among them "Bookwars" by Jason Rosette, "Fastpitch" by Jeremy Spear, the Academy Award-nominated "Children Underground" by Edet Belzberg, and "Manhattan, Kansas" by Tara Wray. In 2007, he produced "Orthodox Stance," a feature documentary directed by Jason Hutt about a young religious boxer named Dmitry Salita.
Negroponte has also taught in the graduate and undergraduate film programs at New York University's Tisch School of the Arts and Temple University. Recently, he helped create a new graduate program in documentary filmmaking at the School of Visual Arts in New York City, where he is part of the faculty.

"A haunting, visceral exploration of addiction and one contemporary man's fearless and determined quest for healing and redemption through the ancient wisdom of the Bwiti and their 'magical' plant, Iboga. For those seeking a path out of darkness, this film is not to be missed." Charles Shaw, AlterNet
"A powerhouse: brutally honest, hilarious, incisive, heroic. It capture's a character who lives against the odds. Negroponte doesn't just go the extra mile to capture story and character – he goes an extra light year and takes the audience with him. Its one of those docs that's going to walk all over the festival circuit like it fucking owns the place." -Sheffield Doc/Fest

"Laced with decidedly dark humor, I'm Dangerous with Love is both a compelling character study and an exciting excursion into an underground subculture." John Berra, Electric Sheep

"Negroponte turns a compassionate eye on the world of drug addiction, and one man's personal passionate crusade to rescue the addicted, one addict at a time. An absorbing and at times exhilarating film that boomerangs from the underbelly of Manhattan to the jungles of Gabon and back again." Ross McElwee
I'M DANGEROUS WITH LOVE
2009 85 minutes, USA, digital video, English, Color
Directed by Michel Negroponte • Written by Nick Pappas and Joni Wehrli • Animation by Lisa Crafts • Music and Sound Design by Brooks Williams and Beo Morales • Photographed and Edited by Michel Negroponte • Executive Producers Julie Goldman, Krysanne Katsoolis, Caroline Stevens • Produced by Blackbridge Productions in association with Cactus Three
PHOTO and press kit available at:
michelnegroponte.com/imdangerouswithlove.html