Earlier this week we learned that Massimo Vignelli passed away at the age of 83. After the Vignelli family announced the ailing health of their patriarch earlier this month, thousands of letters of support and admiration poured in from all over the world. Director Kathy Brew, who visited Lella and Massimo at their home last week, says that the letters have been a source of great joy and inspiration to the family. We extend our thanks to Massimo's dedicated fans and our sincere condolences to the Vignelli family.




The Definitive Documentary About
Iconic Design Team Lella and Massimo Vignelli

Now Available on iTunes. Available on Netflix July 1st

"A love letter about modern design and the Vignelli couple's 50-year marriage." - The Atlantic

"LINEAR GENIUS, BOLD AND TRANSFORMATIVE. This smart, information-rich film includes perceptive visual details...and is enlivened by the charm of the intelligent, eccentric couple at its heart." - The New York Times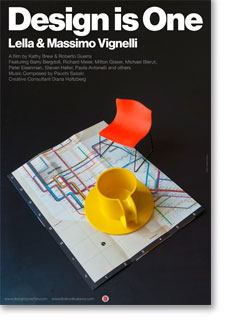 Poster design by Massimo Vignelli
Italian-born Massimo and Lella Vignelli are among the world's most influential designers. Their contributions to the fields of industrial, graphic, and production design have resulted in iconic achievements in the development of corporate identity programs, home furnishing and interior design, architectural graphics, and publishing. Garnering international awards and recognition for over forty years, the Vignellis have led the vanguard of innovative designers through their interdisciplinary mentorship. Throughout their career, their ambitious motto has been, "If you can't find it, design it."

In 1965 Massimo brought the Helvetica typeface to the United States. Igniting an interest in the Vignelli's work, this design development led to a series of notable projects: New York's subway signage and maps; the interior of Saint Peter's Church at Citicorp Center; Venini lamps; Heller dinnerware; furniture for Poltrona Frau; and branding initiatives for Knoll International, Bloomingdales, Saks Fifth Avenue, Ford, and American Airlines.

"In New York City, at almost every turn we're graced with the indelibly crisp, iconic imagery of Italian-born design duo Lella and Massimo Vignelli. Their influence is everywhere, and yet their focus has always been on the work rather than themselves. Filmmakers Kathy Brew and Roberto Guerra, another collaborating couple, set out to change that. Their enthralling documentary goes beyond the duo's epic portfolio to reveal the intimate dynamic of their long-lived partnership." - Vanity Fair.

Experts from the world of design including architects Richard Meier and Peter Eisenman, as well as graphic designers Milton Glaser, Michael Bierut, and Jessica Helfand, offer their anecdotes and memories of the Vignellis' work in Design is One. The film captures the Vignellis' intelligence and creativity, offering the audience intimate access into their everyday life and continuing work and a glimpse of their humanity, warmth and humor.