In a Hidden Corner of Red Hook, Brooklyn
Change Is Anything But Straightforward . . .

AVAILABLE ON DVD beginning December 9, 2008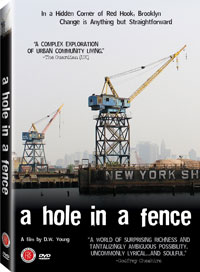 First Run Features is proud to announce the release of A HOLE IN A FENCE, a new documentary from filmmaker D.W. Young. Chronicling the changing fortunes of Red Hook, Brooklyn, A HOLE IN A FENCE explores the many challenges facing one of New York City's most unique neighborhoods. It's the story of a vanished homeless community and the young architect who documented it; of an urban farm run by local kids amidst a landscape of industrial decay; of young graffiti writers losing their stomping grounds; of the arrival of a controversial Ikea megastore; of a photographer's vision of nature's renewal; of the doomed struggle to save a rare part of the neighborhood's working waterfront; and of a filmmaker's discovery of a fleeting, hidden world on the other side of a rusty old fence.
---
Brooklyn is full of abandoned lots. Most people barely notice them, the same way they don't register graffiti or surveillance cameras. They're part of a filtered topography. A HOLE IN A FENCE looks at one of these lots in the neighborhood of Red Hook. Once an active part of the area's waterfront business, it suffered the same fate as much of the local maritime industry and was left to decay. For many years it served as a squatting spot for the homeless, who lived in the empty shipping containers and buildings scattered about its relatively vast space. That world is now gone, the squatters kicked out to make way for large scale development. Fortunately it was recorded by architect and activist Benjamin Uyeda, whose story is central to the film. Shortly thereafter in 2005, the lot became more sealed, accessible only via a couple of small, tight holes in its rusty fence hidden from casual view.
When filmmaker D.W. Young first noticed one of these in Spring of 2006, it was possible to sneak through and enter a desolate, otherworldly expanse of massive, graffiti covered concrete blocks and ponds full of reeds. The scale of the place, the distinct maritime character of the structures, and the secluded feel prompted him to investigate it and connected neighborhood stories further. The film was completed in early 2008, just before the opening of the much disputed Ikea next door, and the lot's place in the shifting flux of Brooklyn remains uncertain. The fence surrounding it is now full of holes and much of the old mystery is gone. In the meantime, the issues of development, class and identity it represents remain at the heart of the diverse borough's continual evolution.

D.W. Young's first film, the short comedy THE THESPIAN, aired on Propeller TV in the UK. He's currently finishing a short documentary project about the subway drawings of New York artist Ami Plasse. He lives in Brooklyn.
Bonus Features: Short Film: Views from the Red Hook Grain Terminal • Red Hook Photo Gallery • Extended Interview • Resources • Trailer Gallery
WINNER! 9th Annual Port Townsend Film Festival , 2008
OFFICIAL SELECTION - 2008 Athens International Film and Video Festival
OFFICIAL SELECTION - 2008 NewFilmmakers Series, Anthology Film Archives
OFFICIAL SELECTION - 2008 San Francisco International Documentary Festival
OFFICIAL SELECTION - 2008 Brooklyn Film & Arts Festival
Nominated for a 2008 International Press Academy Satellite Award for Best Documentary DVD

"D.W. Young's A HOLE IN A FENCE peers through a rusted door in a blighted section of Brooklyn's Red Hook neighborhood and finds a world of surprising richness and tantalizingly ambiguous possibility. What seemed a wasteland teems with life, personality, even art. But can such an eccentric oasis survive the encroachment of developers and the lures of "progress"? The dilemma may be all too common in modern America, but Young's film approaches it with an uncommonly lyrical precision, finding the magical in the concrete -- and soulful significance in the hard choices communities must make."- Godfrey Cheshire, Film Critic and Director of MOVING MIDWAY
"A multilayered look at the complexities of life in a neighborhood under siege."
-Tom Angotti, Director, Center for Community Planning & Development, Hunter College/CUNY
"A complex exploration of urban community living." -Guardian.co.uk

"Thought-provoking." - USA Today

"...the new Red Hook documentary A HOLE IN A FENCE is a valuable look at a part of the neighborhood that is nearly being erased and recreated." -Gowanus Lounge
A HOLE IN A FENCE
46 minutes, color, 2008 • SRP: $19.95 /CAN.:$19.95
UPC: 720229913539 • Catalog #: FRF 913539D
Street Date: December 9, 2008