Available on DVD September 15, 2009

FULL BATTLE RATTLE
INTERVIEWS AVAILABLE
WITH DIRECTORS JESSE MOSS AND TONY GERBER
In August 2006 FULL BATTLE RATTLE directors JESSE MOSS AND TONY GERBER were given unprecedented permission by the Army to join the 4th Brigade of the 1st Cavalry from Fort Bliss, Texas, during their 3 week training rotation in the Army's billion dollar urban warfare simulation in the Mojave Desert. They were placed on opposing sides of the battle, were able to move freely within the battle stages, and were granted complete editorial freedom with the final film.
If you would like to speak to the filmmakers about their experiences in simulated war, and real time filmmaking please contact kelly.hargraves@firstrunfeatures.com
Director's bios are available in the online press kit.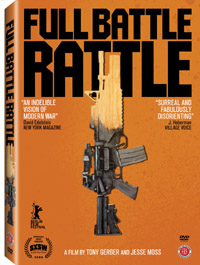 FULL BATTLE RATTLE is a revelatory look at the soul of the American war machine – an astonishing journey inside a once top-secret military base where U.S. soldiers train to confront a new kind of enemy.
In California's Mojave Desert, the U.S. Army has built a billion dollar urban warfare simulation – a cluster of towns and villages modeled on counterparts in the Middle East, complete with full-time residents played by Iraqi Americans. With un-restricted access, the filmmakers follow an Army Battalion through the simulation as they attempt to bring peace and prosperity to one village perched on the brink of civil war. As the mood in the village shifts from friendly banter to violent clashes, the Battalion struggles to win the respect of the townsfolk and defeat an insurgency played, ironically, by American soldiers.
From the moment this stunningly realistic war game begins, the stakes are high and the emotions at fever pitch. As reality and fantasy collide, FULL BATTLE RATTLE moves from comic to surreal to poignant – revealing the challenges and perhaps futility in "liberating" people half a world away.
• Winner! Special Jury Award, SXSW Film Festival
• Official Selection, Berlin Film Festival
"An indelible vision of modern war." - DAVID EDELSTEIN, NEW YORK MAGAZINE
"Surreal and fabulously disorienting." - J. HOBERMAN, VILLAGE VOICE
"Remarkably thorough and detailed." - A.O. SCOTT, THE NEW YORK TIMES
"Fascinating, surreal, but profoundly humane." - JOE WILLIAMS, ST. LOUIS POST DISPATCH TIMES
"Provocative and quite revealing." - KEN FOX, TV GUIDE
"Utterly stunning - some of the greatest and most surreal comedy I've seen. It would be a sublime satire if it wasn't horribly true." - JAMES CHRISTOPHER, THE TIMES OF LONDON
"I don't know whether to laugh or cry." - RICHARD WOODWARD, THE WALL STREET JOURNAL
"An entertaining, often very funny, but ultimately revealing and unsettling film."
- JONATHAN ROMNEY, SCREEN INTERNATIONAL
DVD Bonus Features • Bonus Scenes • Photo Gallery • Filmmaker Q&A at SXSW
FULL BATTLE RATTLE
A film by Tony Gerber and Jesse Moss
85 minutes, color, 2008
UPC: 7-20229-91389-8 / Catalog #: FRF 913898D
SRP: $24.95 /CAN.: $29.95
Street Date: September 15