WORLD WAR II'S GREATEST DOUBLE AGENT
The Nazis and the Allies Both Believed He Was Their Man




Opens in New York at the Quad Cinema on November 18, 2011
& in Los Angeles at Laemmle Music Hall on November 25, 2011

"

Ingenious, inventive, magnificent!" – Allen Johnson, SF Chronicle
"A compelling, gracefully told account of an extraordinary Spanish double agent
who helped change the course of history."- Jonathan Holland, Variety
"Garbo is a gripping spy story told with style, guts and wit. Not only does it play like a thriller,
it does so by using the most powerful weapon of the spy: make-believe."
- Alex Gibney, Oscar-Winning Director of TAXI TO THE DARK SIDE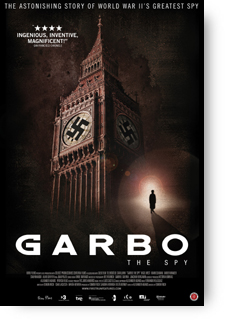 The Allies called him Garbo. The Nazis dubbed him Alaric. Both sides in World War II were sure Juan Pujol Garcia was their man. In reality, Pujol was a double agent - and his final allegiance was to the Allies.
From the relative comfort of Lisbon, Garbo fed false information to the
Nazis and fabricated a network of phantom agents across Europe. Although he never fired a single shot, Garbo helped to save thousands of lives, most notably by misinforming the Germans about the timing and location of the Normandy D-Day invasion. In his inexhaustible imagination he even went so far as to secure death benefits from the Nazis for an imaginary agent's nonexistent widow.
In this documentary thriller, director Edmon Roch artfully interweaves propaganda footage, interviews with intelligence experts and key players in Garbo's life (as well as with Garbo himself), and clips from Hollywood films to conjure forgotten and living memories, heroes and spies, secrets and lies.
Featured are novelist and intelligence expert Nigel West, who tracked Garbo down in Venezuela when everyone thought him dead for more than 30 years; MI5 specialist Mark Seaman, who investigated Pujol's every step; journalist Xavier Vinader, who interviewed Pujol in great detail; The Countess of Romanones Aline Griffith, who was a spy during WWII and worked for American intelligence in Spain; both of Pujol's families, his first in Spain and later one in Venezuela; and last but not least, Juan Pujol himself.

EDMON ROCH (DIRECTOR & PRODUCER)
GARBO THE SPY is Roch's feature length directorial debut. He has written, directed and produced five short films, amongst them the multi-award winning Blood (1994). As a screenwriter, his works include Away from the Flock, about the British artist Damien Hirst (1994); Tic, Tac, directed by Rosa Vergés (1996); and Mia Sarah, directed by Gustavo Ron (2006). His credits as a producer include Whit Stillman's Barcelona (1994); Fernando Colomo's The Butterfly Effect (1995); Jean-Jacques Annaud's Seven Years in Tibet (1997) (where he served as UPM); and Whit Stillman's The Last Days of Disco (1998). He line-produced the first and third films of Peter Greenaway's trilogy The Tulse Luper Suitcases (2002/4) and was Delegate Producer of Tom Tykwer's Perfume (2006). He has also co-produced Sönke Wortmann's Pope Joan (2009) and Alejandro González Iñárritu's Biutiful (2010) and is the producer of Daniel Benmayor's Bruc (2010), Andrucha Waddington's Lope (2010) and Enrique Gato's Tadeo Jones 3D (2011). In 2008, he published the book "Películas Clave del Cine Bélico" ("100 Greatest War Movies").
"Connoisseurs of double cross have always regarded the Garbo case
as the most highly developed example of their art."
- Sir John Masterman, head of the Double Cross System
who controlled the double agents during the Second World War

WINNER BEST DOCUMENTARY FILM
XXIV Goya Awards 2010

WINNER BEST DOCUMENTARY FILM AND BEST SCRIPT
II Gaudí Awards Catalan Film Academy
WINNER BEST EUROPEAN DOCUMENTARY FILM
Sevilla European Film Festival
NOMINATED BEST FIRST APPEARANCE
IDFA, Amsterdam


NY PRESS SCREENING**
Wednesday, November 2nd at 6 p.m.
Magno Review #2
729 Seventh Avenue, New York, NY 10019

RSVP by October 28 to kelly.hargraves@firstrunfeatures.com
**Los Angeles Press: Screeners Available

Garbo: The Spy
87 minutes, 35mm & Digital, B&W, Color
English, Spanish, Catalan, German

Director, Writer, Producer............... Edmon Roch
Screenplay........................................ Edmon Roch, Isaki Lacuesta, María Hervera
Director of Photography................... Bet Rourich, Gabriel Guerra, Joachin Bergamin
Editor............................................... Alexander Adams
Original Music.................................. Fernando Velázquez
Producers......................................... Edmon Roch, Sandra Hermida , Belén Bernuy
Associate Producers......................... Victoria Borrás, Alexander Adams, Patricia Ruiz
Delegate Producer TVC.....................Jordi Ambròs
Sound Design.................................... Oriol Tarragó
Visual Effects.................................... Lluís Castells
Music Supervisor.............................. Alexander Adams
Songs............................................….. Brian Eno, Sparklehorse, RiP
With the participation of.................. Nigel West, Mark Seaman, Xavier Vinader, Stan Vranckx, Aline Griffith, Juan Pujol