The Inspiring Portrait of the Private Person
Behind Icon Dr. Jane Goodall
"A sense of calm came over me. I found myself thinking this is where I belong.
This is what I came into this world to do." – Dr. Jane Goodall
PLAY DATES

New York, NY

September 16 - 22, 2011

Showtimes: 1:40, 4:20, 7:10 & 9:55PM

Los Angeles, CA


September 23 - 29, 2011

Showtimes: 1:40, 4:20, 7:10 & 9:55PM

**Dr. Jane Goodall will appear in person on opening night in both NY & LA (at the 7:20 & 9:40 PM shows at IFC Center on 9/16 and at the 7:10 and 9:55 PM shows at Laemmle Monica 4 on 9/23).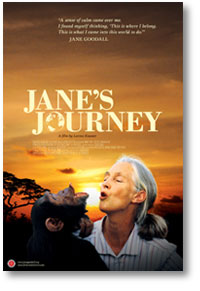 It would be hard to name anyone who has had more of an impact in the realm of animal research and wildlife conservation than Dr. Jane Goodall, Dame of the British Empire, founder of the Jane Goodall Institute (JGI) and UN Messenger of Peace. Dr. Goodall's pioneering study of wild chimpanzee behavior in Africa is legendary and continues today, more than 50 years later, under the auspices of her Institute.
In Jane's Journey, we travel with Dr. Goodall across several continents, from her childhood home in England to Gombe National Park in Tanzania where she began her groundbreaking research, and where she still returns every year to visit the chimpanzees who made her famous.
Jane's Journey is a portrait of the private person behind the world-famous icon. It is the story of an exceptional woman, possibly one of the most fascinating women of our time. With its unhurried pace and unobtrusive camera, this documentary shows the charismatic and eloquent Dr. Goodall as she has never been seen before. Intimate conversations with Dr. Goodall alternate with spectacular footage of her with her beloved chimpanzees, plus revealing interviews with her son, her colleagues and even Hollywood celebrities.
Twenty-five years ago, Dr. Goodall, now 77, decided to give up her career as a primatologist, as well as her private life, to devote her time and energy to saving our endangered planet. Since then, she's been spending an average of 300 days a year traveling around the globe giving lectures, writing books and working through the Institute bearing her name.
Founded in 1977, the Jane Goodall Institute continues Dr. Goodall's landmark research—research that transformed scientific perceptions of the relationship between humans and animals. Today, the Institute is a global leader in the effort to protect chimpanzees and their habitats. It also is widely recognized for establishing innovative community-centered conservation and development programs in Africa, and Jane Goodall's Roots & Shoots, the Institute's global environmental and humanitarian youth program, which has groups in more than 120 countries.
Director/writer Lorenz Knauer has worked in documentary film and television for more than 30 years. In 1989, he made Guns: A Day in the Death of America, which premiered on HBO in the America Undercover series. He went on to produce and direct several films for the renowned 37°C documentary series on German national television (ZDF), including Miss Baby or the Drama of the Perfect Child, awarded Best Documentary at the Charleston International Film and Video Festival and honorable mention at the Columbus International Film Festival; and Forbidden Calling: Catholic Women Priests in America, which won the Silver Award at Worldfest Flagstaff and the Bronze Award at Worldfest Houston. Knauer's feature-length portrait The River Isar was one of the highest-rated docs on Bavarian Television and won a Silver Chris Award in 2006 at the Columbus International Film Festival, a Silver Plaque at the Chicago International Television Awards 2007, and a Platinum REMI Award at Worldfest 2007 in Houston. In 2007, Knauer produced and directed a two-part documentary for Bavarian Television, The Challenge of Change: In the Melting Heart of The Alps, dealing with the effects of climate change and melting glaciers on the population in the central Alps. Work on Jane's Journey began in 2005, and the world premiere was at the Munich Film Festival in June 2010. Jane's Journey has been invited to festivals around the world and was honored with the so-called "Green Oscar" - the "International Green Film Award" - by the Cinema for Peace Foundation at the Berlin Film Festival in February 2011. www.lorenzknauer.com
PLEASE NOTE:
On September 27, for only one special night nationwide, famed Chimpanzee researcher Dr. Jane Goodall will appear live from Fathom Events on hundreds of movie theatre screens for a rare event that will include interaction with theatre audiences, the screening of the biographical film JANE'S JOURNEY featuring guest appearances by Angelina Jolie and Pierce Brosnan; plus in-studio celebrity guests and surprises. Now 77 and still on the road 300 days a year, the film provides the first look ever at historic unseen footage of her first days in Africa at 26 years old recently found in her attic in England, and shows up to the present the dynamic impact she and the Jane Goodall Institute programs have contributed to the planet. To find a theatre near you and purchase tickets available September 2, visit www.fathomevents.com/jane
Jane's Journey
111 minutes, English, 35mm & Digital, 2010, Documentary
| | |
| --- | --- |
| Director/Writer | Lorenz Knauer |
| Producers | Philipp Schall, Michael Halberstadt, Philipp Wundt |
| Editors | Corina Dietz, Patricia Rommel |
| Director of Photography | Richard Ladkani |
| Production Manager | Frank Siegmund |
| Production Coordination | Vera Engelhardt, Susanne Sabottka |
| Camera Assistant | Richard Koburg |
| Sound Recordist | André Zacher |
| Composer | Wolfgang Netzer |
| Arranger | Christian Heyne |
| Production | NEOS Film GmbH & Co.KG, CC Medien GmbH & Co.KG, Sphinx Media GbR |
| | |
| Featuring | Jane Goodall, Hugo "Grub" van Lawick, Pierce Brosnan, Kofi Annan, Angelina Jolie & More |
WINNER: 10th Cinema for Peace Award, Berlin 2011
WINNER: Audience Award, 2011 Princeton Environmental Festival

Praise for Lorenz Knauer's JANE'S JOURNEY
"Fascinating...Inspiring! An engaging, often personal look at the great primatologist-turned-conservationist Jane Goodall." -Deborah Young, The Hollywood Reporter
"A force of nature! The film is a beautiful tribute to Dr. Goodall's accomplishments, a celebration of her spirit and an inspiration for all of us to follow her example and make the world a better place for all."
-Jennifer Merin, About.com Documentaries
"'Jane's Journey' wisely keeps its remarkable subject center-stage throughout, allowing her serene energy to focus the narrative as she recounts her journey from animal conservationist to environmental activist to global humanitarian."-Ronnie Scheib, Variety
"An intimate portrait of the private person behind the world-famous icon - possibly the most fascinating woman of our time." -Channel 24 (UK)
"Beautifully shot, with great humour and such amazing sound recording that you almost feel the animals sitting right next to you. An entertaining and informative account of a great activist's journey."
-Nadia Muhanna, Nisimazine
"Well worth the journey!" -Mary Nyiri, Kinocrotocs.com
"To be with Jane Goodall is like walking with Mahatma Gandhi." - Boston Globe

Press materials are available at: firstrunfeatures.com/janesjourney_press.html
For information about Dr. Goodall and the Jane Goodall Institute, please visit www.janegoodall.org