AVAILABLE ON DVD APRIL 21, 2009
Parvez Sharma's Groundbreaking Documentary
About Lesbian and Gay Muslims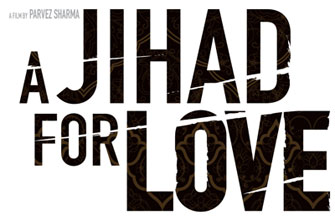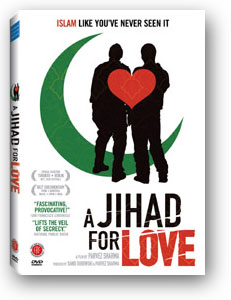 Fourteen centuries after the revelation of the holy Qur'an to the Prophet Muhammad, Islam today is the world's second largest and fastest growing religion. In A JIHAD FOR LOVE, Muslim gay filmmaker Parvez Sharma travels the many worlds of this dynamic faith, uncovering the stories of its most unlikely storytellers: lesbian and gay Muslims. Produced by Sandi DuBowski (Trembling Before G-d) and Sharma, the film was shot (often in secret) in twelve countries and nine languages and is the world's first feature documentary to explore the complex global intersections between Islam and homosexuality.
In Western media, the concept of 'jihad' is often equated with holy war. But it also has a deeper meaning: ' to struggle' or 'to strive in the path of God.' The majority of Muslims believe that homosexuality is forbidden by the Qur'an, and many scholars quote Hadith (sayings attributed to the Prophet Muhammad) to condemn homosexuality. As a result, gay and lesbian Muslims often must engage in their own personal 'jihad for love' – a pursuit that brings them into conflicts with their countries, their families, and even themselves. Many end up renouncing their faith altogether.
But the subjects of A JIHAD FOR LOVE aren't willing to abandon their faith. Instead, they struggle to reconcile their ardent belief with the innate reality of their being. They don't seek to vilify or reject Islam, but rather to negotiate a new relationship to it. In doing so, the film's extraordinary characters attempt to point the way for all Muslims to move beyond the hostile, war-torn present toward a more hopeful future.
It took Sharma six years to complete the film, which was difficult for the subjects to agree to participate in due to the threat of violence. But ultimately they all stepped forward with their stories to reclaim the concept of a greater jihad and to open a dialogue that has been almost non-existent in Islam's recent history.
A JIHAD FOR LOVE had a world premiere at Toronto, followed by a successful national theatrical release. The film is endorsed by Human Rights Watch, which recognizes select First Run Features films that shed light on human rights abuses throughout the world.
Director/producer Parvez Sharma is a New York based writer and filmmaker. A JIHAD FOR LOVE is his first feature and has become an international phenomenon with more than 700,000 viewers in 30 nations in the first year of its release. Sharma variously has been hailed "a gifted filmmaker" (WSJ), "frankly brave" (NPR), "provocative" (San Francisco Chronicle), and "an apostate" (South Africa's Muslim Judicial Council). A leading commentator on Islamic, racial and political issues, his writings frequently appear on The Huffington Post. Currently he is engaged in a nationwide speaking tour and in pre-production for a new film, partly set in his home country of India. Sharma previously has worked as a television journalist in India and the UK. He also worked on Democracy Now! in New York as a producer and as a print journalist in India and the US. He was educated in India, the UK and the US and in the past has served as an adjunct professor at American University, developing and teaching that university's first curriculum on Bollywood and other Indian cinemas. OUT Magazine named Sharma one of the OUT 100 for 2008, and he has been nominated for a GLAAD Media Award in 2009.
Producer Sandi DuBowski directed Trembling Before G-d (2001), which had a world premiere at the Sundance Film Festival, received twelve awards, was released theatrically in the United States, Israel, Canada, Germany, South Africa, and UK and is airing on BBC, The Sundance Channel, ZDF-Arte, HBO Latin America, Israel's Keshet/Channel Two, and other TV stations worldwide. DuBowski has conducted 800 live events with the film across the globe, and it has been seen by an estimated 8 million people. He created Trembling on the Road to document this life-changing movement for the DVD and launched www.filmsthatchangetheworld.com to engage people through global house parties and online events. DuBowski has spoken on numerous panels at conferences and festivals, including the Toronto IFF, Sundance, the Berlin Film Festival Talent Campus, Hot Docs, Silverdocs and IFP. Currently he is directing a new film called Soul Trainer.
DVD BONUS FEATURES: Behind the Scenes • Director Interview • New Footage from Pakistan and Saudi Arabia • 8 Language Subtitle Options
"Revealing and moving…notable for its depiction of the tenacity with which its subjects hold on to their faith despite the wall of bigotry, often homicidal, that confronts them." – Wall Street Journal
"A remarkable exploration, six years in the making, of the lives and struggles of gays and lesbians in the Islamic world today." – Huffington Post
"Dignity and despair woven tightly together…Courageous." – The Guardian
"Lifts the veil of secrecy….frankly brave." – NPR, Talk of the Nation
"A passionate, essential first step … both haunting and inspiring." – New York Sun
"Fascinating, provocative, important." – San Francisco Chronicle
"Intimate portrayals...courageous." – Boston Globe
"Pioneering, heartfelt...this film will both inspire and anger." – Bay Area Reporter
"Provocative, deeply felt, original and emotionally complex." – Village Voice
"Heartfelt debut… Gains depth of feeling as it goes and even develops something of a nail-biting narrative." – The New York Times
"Rich with compelling, often heartbreaking stories…a much-needed reminder that the foundation of any great religion consists of love and understanding." – Film Threat

A JIHAD FOR LOVE
81 minutes, color, English and Arabic, Farsi, Urdu, Hindi, Turkish & French w/English subtitles, 2008
UPC #: 720229913430 • Catalog #: FRF 913430D
Suggested Retail Price: $24.95
Pre-book Date: March 17 • Street Date: April 21

For more information, including the press kit, photos, credits and more, please visit www.firstrunfeatures.com/jihadforlove_press.html.