"KINGS OF PASTRY," THE ACCLAIMED DOCUMENTARY HIT
ABOUT THE FANTASTICAL WORLD OF FRENCH PASTRY,
COMES TO DVD FEBRUARY 22
Foodie film of the year arrives on DVD following successful
theatrical release with over 100 play dates nationwide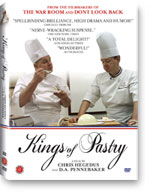 January 14, 2011, New York, NY – When D A Pennebaker and Chris Hegedus, distinguished filmmakers of The War Room and Dont Look Back, turn their sights on the competition for the Meilleurs Ouvriers de France, France's Nobel Prize for pastry, you're in for a treat. Sixteen chefs whip up the most gorgeous, delectable, gravity-defying concoctions and edge-of the seat drama as they deliver their fantastical, spun-sugar desserts to the display table. The inevitable disasters prove both poignant and hilarious. Now, fresh off it's hit theatrical release, KINGS OF PASTRY, one of the most critically-acclaimed documentaries of 2010, comes to DVD on February 22nd and will be available everywhere videos are sold.

About the Film
D.A. Pennebaker and Chris Hegedus secured exclusive access to shoot this epic, never- before-filmed test of France's finest artisans. The film follows chef Jacquy Pfeiffer, co- founder of Chicago's French Pastry School, as he journeys back to his childhood home of Alsace to practice for the contest. During the grueling final competition, chefs work under constant scrutiny by master judges, whose critical palates evaluate their elaborate pastries. Finally, these pastry marathoners racing the clock must hand carry all their creations including their fragile sugar sculptures through a series of rooms to a final buffet area without shattering them. The film captures the high-stakes drama of the competition – passion, sacrifice, disappointment, and joy – in the quest to become one of the Kings of Pastry. 84 minutes, color, 2010.
Bonus Features: Chef Jacquy Pfeiffer creating a chocolate sculpture, Interview with the filmmakers, and, a Chocolate Fashion Show.
The Critics Rave
"Critic's pick ! You'll bite your nails and lick your lips."– David Edelstein, New York Magazine

"Wonderful!" – Ruth Reichl

"Nerve-wracking suspense."
– The New York Times

"Critic's Pick ! Alluring and irresistible.
A total delight!"
– Kennth Turan, Los Angeles Times

"Spellbinding Brilliance, High Drama and humor!"– Chicago Tribune

"4 stars!
Layer upon layer of deliciousness!"
– San Francisco Chronicle
KINGS OF PASTRY 84 minutes, Color, English, 2010. Directed, Photographed and Edited by Chris Hegedus & D A Pennebaker. Executive Producer, Frazer Pennebaker. Produced By Flora Lazar & Frazer Pennebaker. Associate Producers, Rebecca Lando & Patri Cia Soussloff. Featuring Chef Jacquy Pfeiffer, Chef Sebastien Canonne, Chef Philippe Rigollot, Chef Regis Lazard. Additional Camera Nick Doob. Music Supervisor, Alex Toledan. Original Music By Sebastien Giniaux. A Pennebaker Hegedus Films Release ©2009 Pennebaker Hegedus Films, Inc.
UPC: 7-20229-91450-5 Catalog #: FRF 914505D SRP: $27.95/Can. $29.95
For downloadable photos and press materials, visit: http://www.firstrunfeatures.com/press_hv.html




Upcoming Foodie Films from First Run Features
What does it take to create not just one but several of the best restaurants in New York City? Danny Meyer, head of Union Square Hospitality Group, knows. Made over the course of ten years, THE RESTAURATEUR documents how Meyer and his team created and constantly evolved two world-class dining establishments: Eleven Madison Park and Tabla. DVD release date: March 29, 2011.

In GUY MARTIN: PORTRAIT OF A GRAND CHEF we are given an intimate and privileged look into the philosophy and inspirations of one of the most acclaimed and unique chefs in Europe, whose Parisian restaurant Le Grand Véfour, boasting three Michelin, ranks as a culinary Mecca for foodies from around the world. DVD and internet release date: April 12, 2011.