Two New Films from the Global Lens Collection
THE KITE
&
OPERA JAWA
Available on DVD beginning March 24, 2009
First Run Features is proud to announce the upcoming DVD release of the two latest titles from the renowned Global Lens Collection– The Kite and Opera Jawa, both coming to DVD on March 24, 2009.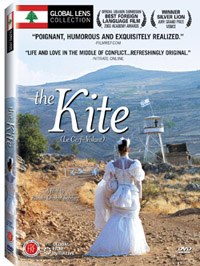 In The Kite a sixteen-year old Lamia must cross a border checkpoint between Lebanon and Israel to marry a man she has never met. Neither she nor her betrothed are eager to consummate a marriage to a stranger—a matter further complicated by Lamia's surprising admission that she is in love with the Israeli soldier guarding the border. Sabbag's enchanting drama about marriage and tradition is underscored by delicate symbolism and artful references to the politics of Lebanon's annexed territories.
Director Randa Chahal Sabbag was born in Tripoli, Lebanon. She studied film at the University of Vincennes and the School of Louis Lumiére in France. She had directed numerous documentaries, short films, and television programs before her first feature film, Sand and Screens (1991). Her second feature film, A Civilized People (1998), a black comedy about the Lebanese Civil War, was censored in Lebanon. She refused to make edits to her film that the Ministry of Interior's military censors proposed, which resulted in her being vilified in the press and her family receiving death threats. In 2004, she was awarded with the nation's highest honor, a Chevalier of the Order of the Cedar, for her contributions to Lebanon. The Kite is her third feature film.
"Poignant, humorous, and exquisitely realized." -FILMREEL.com
"Heightened by its poetic widescreen compositions, The Kite is rich in subtly rendered comedy and tragedy." -MUSEUM OF MODERN ART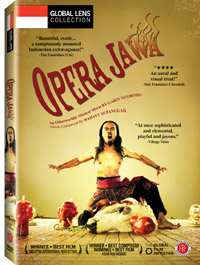 In Opera Jawa, Setyo and Siti live a peaceful life as husband and wife, selling earthenware in their village in Java. But when Setyo is called away on business, a flirtatious butcher, Ludiro, takes advantage of Siti's loneliness to seduce her. Tempted by song and dance, Siti initially refuses his advances but acquiesces in a moment of weakness, setting the stage for an epic battle between the two men. Located in lush forests and on pristine beaches of Java, director Garin Nugroho bases his deeply imagistic and dazzling visual narrative on the "The Abduction of Sita," from the Hindu epic, The Ramayana.
Garin Nugroho was born in Yogyakarta, Indonesia, in 1961. He studied filmmaking at the Institut Kesenian Jakarta, where he later taught filmmaking and was the Assistant Dean of Film Faculty & TV. He has directed numerous award-wining documentaries, short films and music videos. He has also worked as a film critic for Indonesian newspapers, as a Media Coalition Coordinator at the 2004 election, and is currently the director of SET Film Workshop. His feature film Of Love and Eggs (2004) was selected for Global Lens 2007. His other previous feature films include Birdman Tale (2002), And the Moon Dances (1995), Leaf on a Pillow (1998), Letter for an Angel (1994), and Love on a Slice of Bread (1991). Opera Jawa is his seventh feature film.
"Extraordinary, eerie, exotic and erotic, Opera Jawa is like nothing you have seen before –A beautiful, amazing film."-REELING REVIEWS.COM
"Bold, innovative, mesmerizing!" -VARIETY


Both The Kite and Opera Jawa are part of the annual traveling film series sponsored by the Global Film Initiative. GFI was founded in 2002 to promote cross-cultural understanding through cinema. For more about GFI, visit globalfilm.org.
Both films include Discussion Guides as part of their DVD bonus materials, featuring Director's Notes, Historical Background, and more about their country of origin.
THE KITE (Le Cerf-Volant)
80 minutes, color, Arabic w/English subtitles, 2003
UPC: 720229913652 • Catalog #: FRF 913652D• SRP: $24.95 /CAN.:$24.95
OPERA JAWA
120 minutes, color, Indonesian w/English subtitles, 2006
UPC: 720229913669 • Catalog #: FRF 913669D • SRP: $24.95 /CAN.: $24.95
Both DVDs Pre-Book February 19, 2009 • Street Date: March 24, 2009