TWO NEW FILMS FROM THE GLOBAL LENS COLLECTION

OF LOVE AND EGGS
and
A WONDERFUL NIGHT IN SPLIT

Available on DVD beginning November 18, 2008
First Run Features is proud to announce the upcoming DVD releases of the two latest titles from the renowned Global Lens Collection – OF LOVE AND EGGS and A WONDERFUL NIGHT IN SPLIT, both coming to DVD on November 18, 2008.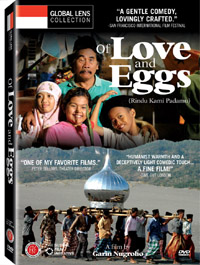 Directed by one of the leading lights of Asian cinema, OF LOVE AND EGGS encompasses several interwoven stories of family, faith and romantic love centered around a mosque and marketplace in Jakarta, Indonesia during the Muslim holiday of Lebaran. Revealed through the eyes of three children, this humorous, poignant film brings to mind the filmmaking of Michael Powell as it "broaches difficult social, religious and generational issues with unusual subtlety and insight." (Time Out London).
In the film, Ramadan (the month of fasting and prayer) has come to an end, and everyone is preparing for holiday of Lebaran. While many Indonesians leave the cities to return their home villages for this special time, for the less affluent children of the marketplace, the holidays can be difficult.
"I like to make films that provoke discussion," says director Garin Nugroho. "Religion is intertwined with many aspects of life – sex, politics, everything. And now there is more room to raise these issues in Indonesia." Nugroho studied filmmaking at the Institut Kesenian Jakarta. In addition to working as a film critic for Indonesian newspapers, Nugroho has made many documentaries as well as seven feature films, the latest being OPERA JAWA, also part of the Global Lens Collection.
In the stylish film noir A WONDERFUL NIGHT IN SPLIT, director Arsen Anton Ostojic spins tales of desire, treachery and murder in the dark, eerie streets of medieval Croatia during the two hours before midnight on New Year's Eve. Winner of numerous awards worldwide, this "ravishing" (Boston Globe) film is finally available on DVD.
While crowds gather in the ancient city square for a rock concert, a widow makes love to her dead husband's best friend; in the next room, her young son lies awake, listening. Meanwhile, a junkie in dire need of a fix makes her way to a local dealer with an unseemly proposition, and an American sailor (played by American rap musician Coolio) continues his desperate hunt for a prostitute. Lives become fatally intertwined, irreparably altered, during this one 'wonderful' night in Split.
Arsen Anton Ostojic studied filmmaking at the Academy of Dramatic Arts in Croatia and as well at New York University. He has worked on numerous films in both Europe and America as an assistant director, production manager and line producer, and produced numerous shorts and documentaries. He is currently teaching at the Academy of Dramatic Arts in Zagreb.
A WONDERFUL NIGHT IN SPLIT is his first feature film.
Both OF LOVE AND EGGS and A WONDERFUL NIGHT IN SPLIT are part of the annual traveling film series sponsored by the Global Film Initiative. GFI was founded in 2002 to promote cross-cultural understanding through cinema. For more about GFI, visit globalfilm.org.
Both films include Discussion Guides as part of their DVD bonus materials, featuring Director's Notes, Historical Background, and more about their country of origin.

Praise for OF LOVE AND EGGS:
"A masterly piece of 'pure cinema' in the Michael Powell tradition." - MERCURY CINEMA (Australia)
"One of my favorite films." - PETER SELLARS, Theatre Director



Praise for A WONDERFUL NIGHT IN SPLIT:
"Ravishing photography and powerful performances." - BOSTON GLOBE
"A stylish feature debut. Well-directed." - VARIETY

OF LOVE AND EGGS (Rindu Kami Padamu)
87 minutes, color, Indonesian w/English subtitles, 2004
UPC: 720229913508 • Catalog #: FRF 913508D • SRP: $24.95 /CAN.:$24.95

A WONDERFUL NIGHT IN SPLIT (Ta Divna Splitska Noc)
100 minutes, color, Croatian w/English subtitles, 2004
UPC: 720229913492 • Catalog #: FRF913492D • SRP: $24.95 /CAN.: $24.95
Both DVDs Pre-Book October 14, 2008 • Street Date: November 18, 2008