Available on DVD May 18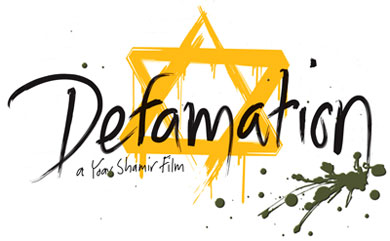 "An incredibly bold and brave film." –MICHAEL MOORE
Intent on shaking up the ultimate 'sacred cow' for Jews, Israeli director Yoav Shamir embarks on a provocative – and at times irreverent – quest to answer the question, "What is anti-Semitism today?" Does it remain a dangerous and immediate threat? Or is it a scare tactic used by right-wing Zionists to discredit their critics?
Speaking with an array of people from across the political spectrum (including the head of the Anti-Defamation League and its fiercest critic, author Norman Finkelstein) and traveling to places like Auschwitz (alongside Israeli school kids) and Brooklyn (to explore reports of violence against Jews), Shamir discovers the realities of anti-Semitism today. His findings are shocking, enlightening and - surprisingly - often wryly funny.
Winner of the Stanley Kubrick Award for Bold and Innovative Filmmaking at Michael Moore's Traverse City Film Festival, the prestigious Grierson Award for Best Documentary at the BFI London Film Festival and the Audience Award for Best Documentary at the Warsaw International Film Festival (not to mention earning a Nomination for Best Documetary at the European Film Awards and being honored with a Special Jury Prize at the 2009 Tribeca Film Festival for "addressing such a controversial subject with a humorous"), DEFAMATION has provoked exuberant audience reactions (and critical response) around the world, as it becomes one of the most talked-about documentaries of the year.
Filmmaker Yoav Shamir was born and lives in Tel-Aviv where he attended Tel-Aviv University, receiving a B.A. in History and Philosophy and an MFA in Cinema. He has made several films that explore modern Israeli life (Checkpoint, 5 Days, Flipping Out) and is regarded as being enormously provocative because of his critical views of Israeli policies toward Palestinians. "Anti-Semitism is the ultimate 'sacred cow' for Jews," Shamir wrote recently. "While I did not set out to slaughter that cow, even the most sacred of cows needs to be shaken up every once in a while."
DVD Bonus Features • Filmmaker Statement • Biographies • More


"An incredibly bold and brave film." - Filmmaker Michael Moore
"Truly courageous! Yoav Shamir IS the Israeli Michael Moore." - TIME OUT NEW YORK
"Provocative and timely, intelligent and wry." - Leslie Felperin, VARIETY
"Profound and passionate." - Ray Bennett, FILM JOURNAL INTERNATIONAL
"This is muscular, intelligent documentary filmmaking of the first order - trenchant, controversial, riveting." - Harvey S. Karten, COMPUSERVE
"Works brilliantly! Shocking, surprisingly funny... Defamation is an education!"
- Jennifer Merin, ABOUT.COM
"A must -see for thoughtf ul friends and critics of Israel."
- David Lamble, BAY AREA REPORTER
"The most important Jewish movie of the year." - Akiva Gottlieb, THE JEWISH JOURNAL
"Alternately sweet-tempered and outrageous... will spark long arguments deep into the night among Jewish and non-Jewish viewers alike." - Andrew O'Hehir, SALON
DEFAMATION
A film by Yoav Shamir
91 minutes, color, English & Hebrew w/English subtitles

UPC: 7-20229-91427-7
Catalog #: FRF 914277D
SRP: $24.95