Available on DVD May 18
Meredith Monk: Inner Voice

"An admiring portrait of an individual whose calm, joyous personality makes her quite wonderful company, both at work and in conversation." - Dennis Harvey, Variety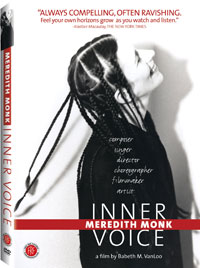 Meredith Monk is a composer, singer, director, choreographer and creator of new opera, music theater, films and installations. She has been proclaimed as a 'magician of the voice' and 'one of America's coolest composers.' During a career that spans more than 45 years, Monk has been hailed by audiences and critics as a major creative force in the performing arts.
Inner Voice celebrates Monk's life and work, and illuminates the role that Buddhism has had in her artistic practice. Using a wealth of resource material including personal archives, film clips of performances, and interviews with her collaborators, as well as conversations with the multi-talented artist herself, director Babeth M. Vanloo articulates Monk's extraordinary drive to live for, and through, artistic expression. Tracing the path of her unceasing creativity up to and including her 2008 music theater piece, Songs of Ascension, the documentary elucidates the mystical nature of artistic creation and the life-affirming energy of an authentic inner voice.
DVD Bonus Features • Bonus Film: Live performance of Monk's seminal work Dolmen Music

Filmmaker, director, producer and media artist Babeth M. VanLoo has directed and produced over 40 films and video projects under the auspices of her production company Film Art Amsterdam. Her work is mainly concerned with art, social engagement and spirituality. Over the course of the last thirty years, her subjects have included such cultural icons as Andy Warhol, Joseph Beuys, Keith Richards, the Sex Pistols, Philip Glass, Noam Chomsky, Thich Nhat Hanh, and His Holiness The Dalai Lama. Her projects have been shown worldwide and on such television networks as PBS in the United States; NHK, Japan; WDR, Germany; Antenne 2, France; and in the Netherlands on on BOS, VPRO, IKON, and EO.

VanLoo's early career includes studying Art as Social Sculpture with Professor Joseph Beuys in Germany. She later moved to the United States, earning her masters degree from the San Francisco Art Institute in 1977 where she subsequently taught. In addition to SFAI, VanLoo taught filmmaking & media at several international art and film academies until 2000, including the Royal Conservatory in The Hague where she worked with such composers as John Cage. Between 1994 and 2001 she also worked as producer for the internationally acclaimed filmmaker Johan van der Keuken.
In 2000 VanLoo became the Programming Director of BOS, the Buddhist Broadcasting Foundation. BOS is the first Buddhist television station in the western world that is part of the Public Broadcasting System for producing and broadcasting documentaries, and in 2000 earned a national broadcasting permit on NPO in the Netherlands. www.buddhistmedia.com
Meredith Monk is a composer, singer, and creator of new opera and music theater works. A pioneer in what is now called "extended vocal technique," Monk has been hailed as "a magician of the voice," and "one of America's coolest composers." During a career that spans more than 40 years, she has been acclaimed by audiences and critics as a major creative force in the performing arts. She has received numerous awards including a MacArthur "Genius" Fellowship, two Guggenheim Fellowships, and in 2006 was named a USA Fellow and inducted into the American Academy of Arts and Sciences.
In the mid '60s Monk began her innovative exploration of the voice as a multi-faceted instrument and subsequently composed and performed many solo pieces for unaccompanied voice and voice/keyboard. In 1978 she formed Meredith Monk & Vocal Ensemble to further expand her musical textures and forms. She has made over a dozen recordings, mostly on the ECM New Series label, including the 2008 Grammy nominated impermanence. Her music has been performed by numerous soloists and groups including Bang on a Can All Stars, Björk, Double Edge and Musica Sacra. She has been commissioned by Michael Tilson Thomas/New World Symphony, Kronos Quartet, and Grand Center Inc./Los Angeles Master Chorale, among others. Her music can also be heard in such films as La Nouvelle Vague by Jean-Luc Godard and The Big Lebowski by Joel and Ethan Coen.
In October 1999 Monk performed a Vocal Offering for His Holiness, the Dalai Lama as part of the World Festival of Sacred Music in Los Angeles. In 2000, the Lincoln Center Festival celebrated Monk's music with a three-concert retrospective and in 2004, a 4 ½ hour marathon was presented at Carnegie's Zankel Hall. Another marathon, Meredith Monk Music @ The Whitney, was presented in spring 2009, followed by the site-specific Ascension Variations at the Guggenheim Museum. Her newest work, Songs of Ascension, premiered in October 2008 and continues with touring in 2010. www.meredithmonk.org
"Always compelling, often ravishing!" - THE NEW YORK TIMES
"An admiring portrait of an individual whose calm, joyous personality makes her quite wonderful company, both at work and in conversation." - Dennis Harvey, VARIETY
"Babeth M. VanLoo's documentary gives full rise to Monk's multigenerational selves, always making performance new." - Hilton Als, THE NEW YORKER
"A profoundly moving tribute to one of America's greatest living performers, choreographers, and composers. Inner Voice offers a rich and complex portrait of Meredith Monk...Babeth M. VanLoo has created a film of immense beauty and historical value about one of the great creative minds of our age."
- Alexandra Munroe, Senior Curator of Asian Art, Solomon R. Guggenheim Museum
"Provides a rare glimpse of Buddhist practice at work in an artist's life."
- Joan Duncan Oliver, TRICYCLE MAGAZINE
"A wise and joyous portrait." - Bonnie Marranca, PERFORMING ARTS JOURNAL
"Essential viewing for anyone interested in the nature of creativity and the nature of spirituality." - Zoe Elton, Director of Programming, Mill Valley Film Festival


MEREDITH MONK: INNER VOICE
A film by Babeth M. VanLoo
82 minutes, color, English, 2009
a Buddhist Broadcasting Foundation production
UPC: 7-20229-91428-4
Catalog #: FRF 914284D
SRP: $24.95 / Can. $29.95