A Southern Plantation and the Legacy of Slavery
MOVING MIDWAY
Available on DVD beginning February 17, 2009


"EXTRAORDINARILY RICH! Takes up the agonies and ironies
of Southern history with remarkable empathy, wit and learning."
-A.O. Scott, THE NEW YORK TIMES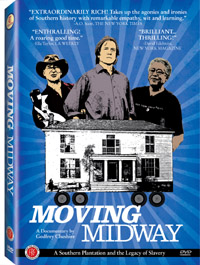 Following the real-life family commotion that swirls around one of America's most contested and controversial icons, the Southern plantation, Godfrey Cheshire's critically acclaimed documentary, Moving Midway, proves Faulkner's famous adage: "the past is not dead…it's not even past."
Humorous, poignant, probing and suspenseful, Moving Midway is a dual-journey, in which the director explores the plantation mythology embodied in our cultural history – from Uncle Tom's Cabin to Gone with the Wind to Roots – while his own family's plantation house is literally hoisted from its foundation and transported several miles across a dramatic landscape.
In the spring of 2004, New York-based film critic Godfrey Cheshire returns to his home state of North Carolina and hears some startling news from his cousin Charles Hinton ("Charlie") Silver, who owns their family's ancestral home, Midway Plantation. Disturbed by Raleigh's encroaching urban sprawl, Charlie and his wife Dena propose to uproot all of Midway's antebellum buildings – located on land their ancestors, the Hintons, acquired in 1739 – and move them to an as yet undetermined location.
The idea is a controversial one within Cheshire and Silver's extended family. Some are concerned about the impact on the plantation's ghosts, especially Miss Mary "Mimi" Hinton, an eccentric writer and historian who ruled over Midway when Godfrey and Charlie were children. Charlie also reveals that a recent visit from an African-American man, who subsequently died, has provided evidence for something their family had never suspected: that a liaison between their great-great-great-grandfather and a slave left them with an extensive African American branch of the family.
Back in New York, a letter to the editor of The New York Times Book Review leads Cheshire to Dr. Robert Hinton, a New York University historian in the Africana Studies program who says that his grandfather was born a slave at Midway. While sharing Cheshire's surprise at their chance encounter, Dr. Hinton agrees to join him in investigating not only the past and problematic present of Midway but also the extraordinary impact of the Southern plantation on American history and culture.
While observing the elaborate, controversy-clouded preparations for and eventual execution of the plantation buildings' move, over a visually spectacular landscape of fields and a rock quarry, Cheshire and Dr. Hinton also trace the way the Southern plantation evolved from a crucial economic institution into a polemically-charged mythic icon that profoundly shaped Americans' ideas of race. Ever-changing, the icon informed a succession of pop-culture milestones: The best-selling Uncle Tom's Cabin, the popular movies Birth of a Nation, (supposedly based on Cheshire's family) and Gone with the Wind, as well as the most-watched TV miniseries in U.S. history Roots, which spurred many African Americans to explore their ancestors' connection to Southern plantations.
By the time Midway is ready for its reopening party, the family that Cheshire and Silver began with has been redefined forever, and two streams of family memory – long separated by the "great forgetting" that followed the Civil War – have begun to be reunited. At best, the family – like America – is only midway on the long journey from slavery to full racial reconciliation. Yet the goodwill and sense of delighted discovery that marks Midway's reopening – the first party to which both black and white family members are invited – offer a tentative indication of the way forward.
Godfrey Cheshire (Writer, Director, Producer) is a film critic, journalist and filmmaker based in New York City. A native of North Carolina, he co-founded Raleigh's Spectator Magazine and began writing film criticism professionally in 1978. He served for a decade as chief film critic for New York Press and his writings have also appeared in The New York Times, Variety, Film Comment, The Village Voice, Interview, Cineaste and other publications. His reviews currently appear in North Carolina's Metro Magazine. Cheshire's areas of special interest include Iranian film, the conversion to digital cinema and cinematic representations of the American South. He is a former chairman of the New York Film Critics Circle and a member of the National Society of Film Critics.
"A profound masterwork." (Andrew Sarris, NY OBSERVER)

"Fascinating, touching, and intellectually tough-minded." (David Denby, THE NEW YORKER)

"Brilliantly fuses criticism and storytelling!" (David Edestein, NEW YORK MAGAZINE)

"Enthralling. A roaring good time." (Ella Taylor, LA WEEKLY)

"A-. Thoughtful, graceful, compassionate." (L. Schwarzbaum, Entertainment Weekly)

"An illuminating look at the history of the plantation and the endless secrets of the South's gothic past." (OPRAH'S O AT HOME MAGAZINE).

DVD BONUS FEATURES
PHOTO GALLERY: HOW TO MOVE A HOUSE • BONUS SCENES • INTERVIEWS • MORE
CREDITS
Written and directed by Godfrey Cheshire
Produced by Godfrey Cheshire, Vincent Farrell, Jay Spain
Executive Producer: R.B. Reeves
Chief Historian/Associate Producer: Robert Hinton
Cinematography: Jay Spain
Editors: Ramsey Fendall, Greg Loser
Composer: Ahrin Mishan
Blues Songs by Algia Mae Hinton
Running Time: 98 minutes
MOVING MIDWAY
98 minutes, color English, 2008
UPC: 7-20229-91360-7 • Catalog #: FRF 913607D • SRP: $24.95 / CAN: $29.95
Prebook Date: Janaury 16, 2009 · Street Date: February 17, 2009
GODFREY CHESHIRE IS AVAILBALE FOR INTERVIEWS