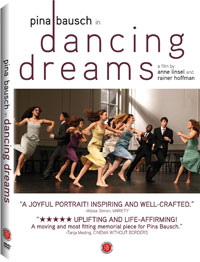 The world lost one of it's most important dance makers when Pina Bausch passed away last year at the age of 68. One of the most innovative choreographers in history, she was known for her astonishing multi-media staging, visceral movement and fantastic characters who explore male-female interaction. Her work has inspired a generation of artists including Pedro Almodóvar who featured her dance in Talk to Me. Wim Wenders is currently working on a 3-D version of Bausch's choreography.
One of Bausch's final projects was Contact Zone, made in 2008 when Bausch selected 40 teenagers who had never heard her name to be part of her dance piece. For ten months through opening night, filmmaker Anne Linsel, a longtime Bausch collaborator, followed the young dancers as they discover Bausch's genius and their own bodies.
A sensation at the 2010 Berlin Film Festival, DANCING DREAMS is a testament to Bausch's revolutionary work.


DANCING DREAMS
A film by Anne Linsel and Rainer Hoffman
89 minutes, color, German w/English subtitles, 2010
Bonus Features: Pina Bausch Biography • Photo Gallery •.Dance Film Gallery • Director's Notes
UPC: 7-20229-91448-2 | Catalog #: FRF 914482D | SRP: $27.95 / Can. $29.95
Street Date: November 16
"A joyful portrait! Inspiring and well-crafted." - Variety
"Fascinating!." - San Francisco Chronicle
"

Uplifting and life-affirming! A moving and most fitting memorial piece for Pina Bausch." - Cinema Without Borders
"Electrified audiences! While the film serves as a fitting elegy for Bausch, it also speaks to young people seeking creative fulfillment...a stimulating examination of the many ways in which art can give an electric charge to everyday experience." - The Hollywood Reporter