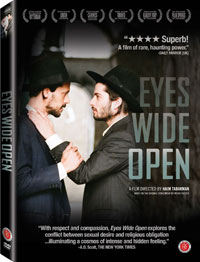 Aaron, a butcher and devout family man in Jerusalem's ultraorthodox Jewish community, has his quiet existence interrupted one day when Erzi, a handsome, young Yeshiva student, happens on his shop. Intrigued by the young man, Aaron offers Erzi a job and over time becomes his friend and mentor.
The two men, working side by side, grow closer, and soon other feelings surface. As their forbidden desire for each other grows, Aaron begins to neglect his business and his family. But guilt, torment and pressure from the community lead him to make a radical decision.
Variety says, "The soberly fascinating pic shows the attractions and disadvantages of life in a closed religious community. The taboo-breaking "Eyes Wide Open" is an intense, restrained drama."
Director Haim Tabakman: "Religious people do not consider homosexuality a sin; it just does not exist. I really want to help break the silence, to be part of the evolution of the orthodox world. There is a way to convince people, through movies, without using force, to say: "Look, this exists." I think our heroes are diving into this romance whereas they know there is no real chance to live it. It's just like accepting faith. I see EYES WIDE OPEN as a car rushing towards you, but you keep on walking in the same direction."
Born in 1975, Haim Tabakman studied Cinema and Television at the University of Tel Aviv. Two of his early short films, Free Loaders and The Poet's Home, were selected by the Cannes Film Festival (Cinefondation), as well as by the Karlovi Vary and Montpellier film festivals. Tabakman has also edited several films, including My Father, My Lord (by David Volach). Eyes Wide Open is his first feature film.
EYES WIDE OPEN
A film by Haim Tabakman
90 minutes, color, Hebrew w/English subtitles, 2009
UPC: 7-20229-91441-3 | Catalog #: FRF 914413D | SRP: $27.95 / Can. $29.95
Street Date: November 16
Official Selection: 2009 Cannes Film Festival – Un Certain Regard
Toronto International Film Festival

"Critic's Pick! With respect and compassion, Eyes Wide Open explores the conflict between sexual desire and religious obligation...illuminating a cosmos of intense and hidden feeling."
- The New York Times [read the full review]
"

Brilliant, searing. A gripping tale of a man fighting with himself, his community and his religion." - Time Out London
"Critic's Pick! A haunting tale of a doomed Orthodox Jewish gay couple." - New York Magazine
"Taboo-busting! Call it Brokeback Talmud." - Time Out New York
"

A must-see! Potent, subtle and sensitive. Beautifully shot and edited, with an honesty and complexity we rarely see on screen." - Shadows on the Wall (UK)
"Fascinates! An evocative, powerful, coming-out-in-religion story." - Box Office Magazine
"

Raw, sensual and seductive." - Little White Lies (UK)