NOBODY ELSE BUT YOU
102 minutes, fiction, color, French w/English subtitles, 2011

A film by Gérald Hustache-Mathieu

Rousseau is a bestselling crime novelist from Paris, troubled by writer's block. Candice Lecoeur is a local beauty, gracing the famous "Belle de Jura" cheese packaging, who has gotten it into her head that she might well be the reincarnation of Marilyn Monroe. The two will meet in the coldest village in France, but only after Candice has been found dead.

The case was closed before it even opened and the cause of death declared suicide by sleeping pills. Rousseau is the only one who doesn't buy it. Reality turns out to be stranger than fiction - and a source of inspiration - as Rousseau uncovers the truth about Candice's past and her untimely death.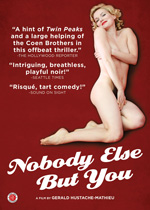 "A hint of Twin Peaks and a large helping of the Coen Brothers! This offbeat, cleverly crafted French thriller is perhaps the closest thing to Fargo to come along in a long while."
- The Hollywood Reporter

"Ravishing cinematography!" - The New York Times

"Intriguing, breathless, playful noir!" - Seattle Times

"Droll and satisfying. Grade: A-!" - Entertainment Weekly

"Risqué, tart comedy!" - Sound on Sight

"A terrific, stylish, intelligent mystery. The perfect rainy-day thriller." - Jeffrey Lyon

"Thrilling, modern noir! A gorgeously shot, rousing good mystery with an engaging balance of the lurid and the erotic."
- This Week in New York
UPC: 7-20229-91527-4 | Catalog #: FRF 915274D | SRP: $27.95
UPC: 7-20229-91512-0 | Catalog #: FRF 915120D | SRP: $27.95 (alternate red sleeve)



GIVE UP TOMORROW
95 minutes, documentary, color, English, Spanish & Tagalog w/English subtitles, 2012

A film by Michael Collins

Special Features: Update on Paco's Case • Filmmaker Interviews • Interviews with Paco's co-accused • Deleted Scenes • More

UPC: 7-20229-91526-7 | Catalog #: FRF 915267D | SRP: $24.95

Street Date: October 4

GIVE UP TOMORROW is a journalistic documentary by Michael Collins that chronicles the controversial arrest of Filipino citizen Paco Larrañaga, a 19 year old student accused of a murder that happened hundreds of miles away from him.

One night on the Philippine island of Cebu, as a tropical storm slammed the island, two sisters left work and never made it home. That same night, hundreds of miles away in Manila on a different island, Paco Larrañaga is at a party, surrounded by dozens of reliable witnesses. The missing women, Marijoy, 21,and Jacqueline Chiong, 23, are Chinese-Filipinos. Paco, accused of their rapes and murders, is a Spanish mestizo who belongs to a political clan that includes a former president.

GIVE UP TOMORROW exposes a Kafkaesque extravaganza populated by flamboyantly corrupt public officials, cops on the take, and a frenzied legal and media circus. It is also an intimate family drama focused on the near mythic struggle of two angry and sorrowful mothers who have dedicated more than a decade to executing or saving one young man.

Examining the justice system for this young man, who has already spent 14 years in prison, GIVE UP TOMORROW tells a persuasive true tale as engrossing as any thriller, that outrages and informs.
• National PBS Broadcast on Street Date •

"Astounding." - The New York Press

"Jaw-dropping." - Orlando Weekly

"An incredible story, beautifully and persuasively told. As well-paced and engrossing as any thriller while incalculably more harrowing." - The Guardian (London)

"An exceptional film. Prepare to be outraged." - The Globe and Mail (Canada)

"Remarkably cogent and compelling." - Variety

"One of the top festival experiences I have ever been a part of. A deliberately paced, edge of your seat mystery/thriller. Heroic and daring captures of moments it would seem impossible to preserve, but they pulled it off." - Examiner.com
Winner of 15 Awards in Festivals Worldwide