Werner Boote's
PLASTIC PLANET
Available on DVD beginning April 12
Director Werner Boote is Available for Interviews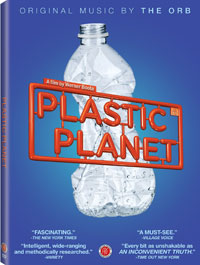 We live in the Age of Plastic. It's cheap, it's practical, and it's everywhere - from the highest mountains to the hottest deserts, from the North Pole to the South Pole. It's even part of us - inside our blood.
Should we be worried?

For Austrian German director Werner Boote, plastic is personal. His grandfather was one of the early manufacturers of plastic and he introduced him to the magic substance that would change the world.

In PLASTIC PLANET, Boote takes us on a journey around the globe - from the Moroccan Sahara to the middle of the Pacific Ocean, from a factory in China to the highest peaks of the Alps - to reveal the far-flung reach of plastic. Interviews with the world's foremost experts in biology, pharmacology, and genetics shed light on the perils of plastic to our environment and expose the truth of how plastic affects our bodies...and the health of future generations.
"Boote's documentary has led to some changes in the way consumers, politicians and industry officials think about plastic...Less than two months after Boote presented his findings, all the Bisphenol A-contaminated pacifiers that he tested were taken off the European market. The minister of Austria forbade products containing Bisphenol A that are in contact with children's food starting at the end of 2011. In addition, the European Commission banned Bisphenol A from products beginning this spring. When Boote presented PLASTIC PLANET at an Abu Dhabi film festival, the United Arab Emirates' minister of environment and water asked how he could help. Ten days later, the government prohibited plastic bags starting in 2013. Boote added that some viewers have gone as far as refusing to buy plastic products altogether."- Home Media Magazine
First Run Features has adopted an eco-friendly DVD packaging process with the release of Plastic Planet. We will use a paper product made from 100% Green Forestry-certified material.
As First Run VP Marc Mauceri recently told Home Media Magazine, "We searched far and wide for what we thought would be the best possible green, non-plastic solution. We expect that we will start to release a number of titles using this packaging."
Also, with the release of PLASTIC PLANET, for the first time ever we are making screeners available online. We can provide reviewers with a password upon request. Traditional DVD screeners are still available as well.

"'Plastic Planet' is that rare call-to-action documentary that might rouse viewers to do something more than nod their heads in agreement. A methodically researched yet engaging examination of the environmental and health problems associated with plastic, this wide-ranging warning cry uses an intelligent investigative style along with animation and vintage footage to drive home its message."
– Jay Weissberg, Variety
WINNER! 2010 German Environment Media Award

PLASTIC PLANET
95 min, Color, English narration and subtitles, Dolby Digital
Written and directed by Werner Boote
Original Music by the Orb
Animation by Peter Hoehsl
Produced by Thomas Bogner, Daniel Zuta
Executive producers, Tom Glaeser, Ilann Girard

With: John Taylor, Peter Lieberzeit, Marques Brown, Othman Ilyassa, Klaus Rhomberg, Beatrice Bortolozzo, Felice Casson, Juergen Artner, Frederic Corbin, Robin Tharaldson, Hermann Bicherl, Vicky Zhang, Theo Colborn, Kurt Scheidl, Rupsha Raghuram, Charles Moore, Susan Jobling, Scott Belcher, Patricia Hunt, Gunther von Hagens, Badru Okidi, Hiroshi Sagae, Jeff Harris, Fred vom Saal, Craig Halgreen, Guido Brosius, Stefano Facco, Catia Bastioli, Ray Hammond, Margot Wallstrom, Elfriede Boote. Narrator: Mark Jefferis
Press materials are available at: firstrunfeatures.com/plasticplanet_press.html