"The Congolese counterpart of Buena Vista Social Club!"
ON THE RUMBA RIVER
Featuring Wendo Kolosoy
Coming To DVD on October 21 Following its Theatrical Release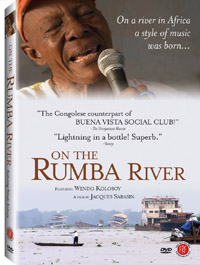 Jacques Sarasin's ON THE RUMBA RIVER is a documentary about, and a tribute to, the legendary African musician Antoine 'Wendo' Kolosoy. The film honors Wendo (who passed away earlier this year) as well as the Congolese people, who have been sustained by his music for decades, despite desperate poverty, a history of oppression and an ongoing civil war that has killed nearly four million people.
Traveling up and down the majestic Congo River on a rickety boat, the young orphan Antoine Kolosoy composed his first songs on a beat up old guitar. As his talent was revealed and his reputation grew, the government banned his music, fearful the joyful rhythms would stir unrest. Kolosoy's first album, released in 1948, made him asuperstar of Congolese rumba, and around that time he was given the nickname 'Wendo.' But as Congo suffered under the dictator Mobutu, Wendo was reduced to beggarhood. In the late 1990s, older and wiser, he made his comeback.
Featuring unforgettable images, buoyant music and enjoyable interviews, ON THE RUMBA RIVER joins Wendo as he journeys across Congo, playing his joyful music, searching for old band-mates - "an eye-opening view into the spirit of the Congolese people, and a beautiful and warm-hearted portrait of a singer who seems at times the beating heart of a country." (Chris Barasanti, Film Journal International)
Filmmaker Jacques Sarasin co-founded an arts organization and a foundation dedicated to creating habitat in Africa and Latin America. Sarasin directed his first documentary feature in 2003, I'll Sing for You, which was presented by Jonathan Demme and featured at more than 35 festivals worldwide. In 2006 he made a five-part series entitled Where Is The World Going, Mr. Stiglitz?, featuring former chief economist of the World Bank and Nobel Prize laureate, Joseph Stiglitz. Both of these titles are distributed by First Run Features. When he's not making films, Sarasin is also a world-class yachtsman.
DVD Bonus Features: Music Tracks • Photo Gallery • Biographies • Original Theatrical Trailer
Selected Praise for ON THE RUMBA RIVER from its Theatrical Run
"You don't have to be a fan of African tunes to appreciate this heartfelt ode to Congolese music and its resilient practitioners. Alternately poignant and playful...effervescent music!"
-THE NEW YORK TIMES
"Buoyant and soulful." -TIME OUT NEW YORK
"Lightning in a bottle! Superb." -VARIETY
"Gorgeous! A must-see." -FILM JOURNAL INTERNATIONAL
"Vibrant and moving!" -LA WEEKLY
"Delightful!" -NEW YORK POST
"The Congolese counterpart of Buena Vista Social Club!" -THE UNREPENTENT MARXIST
ON THE RUMBA RIVER
82 minutes, color, Lingala w/English subtitles, 2008
UPC: 720229913478 • Catalog #: FRF 913478D
SRP: $24.95 /CAN.:$24.95
Pre-book: September 16 • Street Date: October 21
More information about the films, including press kits, photos, can be found at www.firstrunfeatures.com