AVAILABLE ON DVD APRIL 21, 2009
AWARD WINNING GERMAN DIRECTOR VADIM GLOWNA'S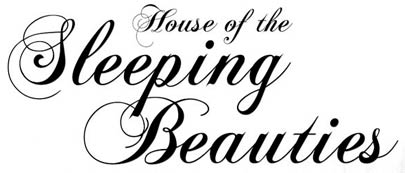 "An alternately lyrical and disturbing adult fairy tale." – New York Magazine
Based on the beautifully strange novella by Yasunari Kawabata, writer-director-actor Vadim Glowna has crafted a beautiful, macabre thriller about loneliness, sex, eroticism and mortality. Featuring performances by Glowna, the Academy Award-winning Maximilian Schell, Angela Winkler, and a cast of young beauties, House of the Sleeping Beauties premiered at Cannes in 2007.
Edmond (Glowna), a lonely widower in his late sixties living in Berlin, learns from old friend Kogi (Schell) about a secret establishment where one can pay to lie alongside beautiful, sleeping young women. The girls – who move, stretch, roll over and dream but never awaken – are cared for by Madame (Winkler), the enigmatic director of the house.
Seduced and enchanted by their peculiar, unconscious tenderness, Edmond visits the sleeping beauties with greater and greater frequency, prompting him to probe the boundaries of his own morality and to re-visit long repressed memories, including the deaths of his wife and daughter. When Edmond inadvertently observes Madame and her cohorts smuggling a corpse from the premises, a newly ignited desire to unravel the bizarre activities conflicts with his addiction to the juvenile innocence and tender embrace of those who inhabit it.
Vadim Glowna has directed more than thirty films for television as well as eight feature films. He won several awards for his film Desperado City (1981), including the Caméra d'Or at Cannes. Two other films, Nothing Left To Lose (1983) and Raising to the Bait (1992), both received accolades at the Berlin Film Festival. Also a versatile performer, Glowna is one of Germany's most popular actors. In 2000, the German Film Critics Association awarded him Best Actor for his appearance in Oskar Roehler's No Place to Go. He also has appeared in films such as Sam Peckinpah's Cross of Iron (1977) and Claude Chabrol's Quiet Days in Clichy (1990), among others.
Maximilian Schell is one of the most well-known and successful German actors (and directors) worldwide. In 1961, he won the Oscar for Best Actor by tackling the difficult role of the defense attorney in the epic film Judgment at Nuremberg (1961). Schell has six total Academy Award nominations and has won two Golden Globes. He met Glowna while filming Sam Peckinpah's Cross of Iron, and the two became friends.
Angela Winkler is a German theatre actress and a living legend. She has appeared in more than one hundred plays and worked with Europe's most renowned directors. In 1980, Winkler was awarded the German Film Prize for The Tin Drum (1979), which won the Oscar for Best Foreign Film as well the Palme d'Or at Cannes. Other notable film roles include The Lost Honor of Katharina Blum (1975) and Edith's Diary (1983).
DVD BONUS FEATURES: Photo Gallery • Director's Biography • Film Notes • Trailer Gallery
FESTIVALS & AWARDS
Cannes Film Festival 2007
Nominated – German Film Awards
Best Director & Best Music – International Film Festival Belgrade
Glowna/Lifetime Achievement Award – Film Festival Hachenburg, Germany
International Film Festival of Sao Paulo, Brazil
International Film Festival of Kiev, Ukraine
"The psychology of eroticism is on vivid display!" – HARVEY KARTEN, COMPUSERVE
"Creepily mesmerizing, seductively filmed... Sex, death and the endless fascination of
unclothed innocence." – THE NEW YORK TIMES
"An alternately lyrical and disturbing adult fairy tale." – NEW YORK MAGAZINE
"Visually lush." – TIME OUT NEW YORK
"More than an unsettling voyeuristic fantasy." – CRITICS NOTEBOOK
"Rewarding viewing for people with the correct mind-set." – NEW YORK POST
"Dark and affecting... Succeeds in using a fantastic idea to give us a glimpse into a very real, emotional journey." – CINEMAFANTASTIQUE
"Artfully made...visually stunning!" – BIG PICTURE BIG SOUND
"A sleepy thriller in a very unusual bordello. The photography is absolutely gorgeous."
– TWITCHFILM.NET
HOUSE OF THE SLEEPING BEAUTIES
(Das Haus der schlafenden Schönen)
A film by Vadim Glowna
100 minutes, color, German w/English subtitles, 2006
UPC #: 720229913706 • Catalog #: FRF 913706D
Suggested Retail Price: $29.95/CAN.: $34.95
Pre-book Date: March 17 • Street Date: April 21
For more information, including the press kit, photos, credits and more, please visit www.firstrunfeatures.com