Just in Time for the Holiday Season –
From "The Nation's Premiere Animator!"
The Films of Michael Sporn
A New Collector's Edition DVD Box Set

AVAILABLE ON DVD beginning November 18, 2008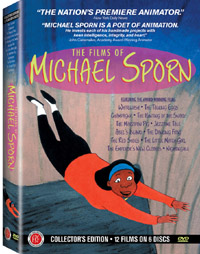 Michael Sporn may be the most celebrated animator you've never heard of. Honored with an amazing array of awards – including Parent's Choice medals, Cine Golden Eagles, Cable ACE Awards, Gold Apples, Carnegie Medals, Emmy Awards and an Oscar nomination – he was also recently the focus of a retrospective at the Museum of Modern Art. Sporn has been called "the nation's premiere animator" by the New York Daily News, and Oscar-winning animator John Canemaker said of him, "he is a poet of animation…he invests each of his handmade projects with keen intelligence, integrity and heart." And Sporn somehow finds time to keep up his wonderfully authoritative blog about animation (and other matters), which he calls his "Splog."
First Run has long been a fan of Michael Sporn, and when made available we've eagerly released his beautifully crafted, socially aware films. Thus we're proud to announce this new Collector's Edition Box Set, which brings together in one package all twelve Sporn films that we've released over the years.
Based on stories from such acclaimed writers as William Steig (author of Shrek), Russell Hoban, Hans Christian Andersen and Lewis Carroll, the 12 films in the Box Set are considered among his best – and most personal – works, and feature a stunning cast of voices, including James Earl Jones, Ruby Dee, Tim Curry, Amanda Plummer, Danny Glover, Linda Lavin, Regis Philbin, Ossie Davis and F. Murray Abraham.
The six disc set also comes with copious bonus materials created by Sporn especially for these DVDs, including short films (In the Animation Studio, etc), animatics (storyboards), art galleries, and audio commentaries.
---

Michael Sporn has been animating professionally since 1972. He worked closely with animation directors John & Faith Hubley ("Cockaboody", "Letterman", "Everybody Rides the Carousel") and Richard Williams ("Raggedy Ann & Andy"). After supervising many commercials and a PBS Special ("Simple Gifts"), he formed his own company, Michael Sporn Animation Inc. Sporn's studio found its niche producing films for television and home video, many of which were adaptations of renowned children's books such as "Doctor Desoto", "Lyle Lyle Crocodile" and "The Marzipan Pig". The award winning films "Champagne" and "Whitewash" represented a different direction –serious animation which presented issues of social relevance. Recent titles include an adaptation of "Good Night Moon", a Grandma Moses version of "The Night Before Christmas" and "The Man Who Walked Between the Towers." Currently in production is a feature length film derived from the life and works of Edgar Allan Poe.
For more about Michael Sporn and his company, and also to read his wonderful Splog, check out his website at www.michaelspornanimation.com.

THE COLLECTOR'S EDITION BOX SET FEATURES THE AWARD WINNING FILMS
• Whitewash • The Talking Eggs • Champagne • The Hunting of the Snark •
The Marzipan Pig • Jazztime Tale • Abel's Island • The Dancing Frog • The Red Shoes • The Little Match Girl • The Emperor's New Clothes • Nightingale


SELECTED PRAISE:
"The nation's premiere animator!" -NEW YORK DAILY NEWS
"A+! Lovely...Wonderful!" -ENTERTAINMENT WEEKLY

"Charming! Enjoyable for all!" -LOS ANGELES TIMES
"Time for a break from Disney!" -CHICAGO PARENT MAGAZINE
"Michael Sporn is an animator for all seasons who produces films for all the right reasons."
-TV GUIDE

THE FILMS OF MICHAEL SPORN:
COLLECTOR'S EDITION BOX SET
Approx 6 hours, color • SRP: $49.95 /CAN.:$49.95
UPC: 720229913515 • Catalog #: FRF 913515D
Pre-book: October 14, 2008 • Street Date: November 18, 2008