A New Mom Winning the Battle Against Breast Cancer
Dear Talula
AVAILABLE ON DVD beginning December 9, 2008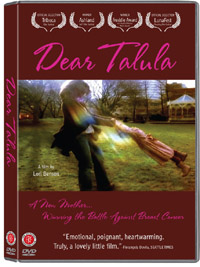 "From the minute I got 'the call' all I could think was 'I'm gonna die!'… but for my filmmaker husband, the first thing he said was 'Should we bring a camera to the doctor's office?'" -Lori Benson

At 38, Lori Benson, an aspiring filmmaker living in downtown Manhattan, was relishing life and motherhood with her one-year-old daughter Talula. Then a single phone call changed her life forever: it was her doctor; the diagnosis was breast cancer.

Mixing verité footage with home videos and family photographs, Dear Talula is an intimate autobiographical portrait of Lori's battle with breast cancer. The film follows Lori after she receives the news - the complicated and often confusing medical choices, doctors' visits, surgeries, chemotherapy and search for alternative therapies. It also shows the support and encouragement she receives from loved ones and tender moments shared with Talula. While the film tackles emotional subject matter, it is not without lighthearted moments, as Lori displays an uncanny ability to find the humor in difficult situations.

Dear Talula is an unforgettable portrait of a woman whose grace and courage allow her to transform her breast cancer diagnosis into a journey of self discovery.


---

From the diary of director Lori Benson: "The first days were such a whirlwind of madness. All the doctors appointments, all the information to take in, all the unknowns. I only had 10 days from the day I received the news, until the day I went in for surgery. It was very scary and very surreal. But there was such an outpouring of love and support that I felt remarkably protected, and in some ways, stronger than ever. I walked through the surgery doors equipped with an iPod filled with prayers and poetry read by friends and family, and the sweet sound of Talula saying her first word over and over again (which happened to be 'hola'). As my friend Tricia said in the healing circle she organized: the power of prayer is real. I believe that now more than ever.

"About a month after my surgery I was sitting around and noticed a bunch of DV tapes in box on my desk. It was the tapes from those beginning days. I started to watch them and was stunned at what I saw. I saw myself; me with breast cancer. I saw my friends and family surround me in love and support, me breastfeeding Talula for the last time, me walking through those surgery doors. In that moment, I knew I had to make this film.

"Ultimately making the film was very cathartic. It changed my life. It's an extraordinary thing to process something as big as getting cancer through creating art. And now, sharing the film with others is proving to be gratifying in more ways than I ever imagined. It's true, blessings come in the most unexpected ways."

Visit www.deartalula.com for more about Lori and Dear Talula.
Selected Praise for Dear Talula
"A compelling portrait of a woman whose good humor and courage allow
her to transform her diagnosis into an opportunity to make a difference."
-Susan Sawyers, The Huffington Post
"Richer and more emotionally charged than many feature-length films.
Benson shares her story with unflinching courage and grace.
Dear Talula will move and inspire."
-Lisa Schneider, Beliefnet.com
"Emotional, poignant, heartwarming. Truly a lovely little film."
-Florangela Davila, Seattle Times
DVD Bonus Features include:
•Breast Cancer Guide Book
•Director's Notes
•Resources
Dear Talula
34 minutes • color • SRP: $19.95 / CAN: $24.95
UPC: 7-20229-91356-0 • Catalog #: FRF 913560D
Street Date: December 9, 2008