THROUGH A LENS DARKLY
Director Thomas Allen Harris is available for interviews.

Now on iTunes.
Coming to DVD February 10, and coming to Netflix February 17. Premieres February 16th on PBS Independent Lens.
EXTRAS: 10 Video Biographies & 4 Video Shorts from The Digital Diaspora Roadshow.
92 minutes, color, 2014
The first documentary to explore the American family photo album through the eyes of black photographers, Through a Lens Darkly probes the recesses of American history to discover images that have been suppressed, forgotten and lost. From slavery to the present, these extraordinary images unveil a world confronting the difficult edges of citizenship and what it means to be human.

Inspired by Deborah Willis's book Reflections in Black and featuring works by Carrie Mae Weems, Lorna Simpson, Anthony Barboza, Hank Willis Thomas, Coco Fusco, Lyle Ashton Harris and many others, Through a Lens Darkly introduces the viewer to a community of storytellers who collectively transform singular experiences into a journey of discovery – and a call to action.
"Extraordinary... a deep, rich dive into the history of African American photography."
- Time Magazine

"CRITIC'S PICK! Mr. Harris's film is a family memoir, a tribute to unsung artists and a lyrical, at times heartbroken, meditation on imagery and identity. The film is always absorbing to watch. Overall, he is a wise and passionate guide to an inexhaustibly fascinating subject."
- The New York Times

"A rich, moving documentary...an expansive, fast-moving look at the African American experience since slavery, canvassing everything from the media savvy of figures like Frederick Douglass and Sojourner Truth to the ways that contemporary black identity has been corroded by consumerism." - LA Weekly

"One of the most important and necessary documentaries of the year." - Indiewire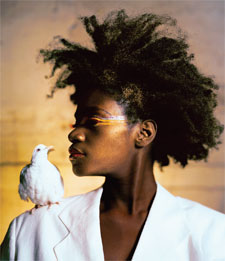 "In his new documentary, Thomas Allen Harris lays out the thesis that black people in this country have mostly been seen through the eyes of white image makers who have infused popular culture with Aunt Jemima, Uncle Ben, Darkie toothpaste, 'The Birth of a Nation' and more. Harris shows how these images have long conditioned our collective subconscious, informing our attitudes toward black people and often black people's attitudes toward themselves. As 'Through a Lens Darkly' demonstrates, it's only through the eyes of black photographers that we see differently...some of their works here are breathtaking."
- Los Angeles Times

"The material that Harris works with in 'Through a Lens Darkly' is rich and stunning: the semi-secret history of African-American photo imagery, from the slavery days to the present." - The Village Voice

"Powerful...marvelous. Worth seeing just for the amazing archival footage." - This Week in NY

UPC: 720229916387 | Catalog #: FRF 916387D | $27.95 | Street: February 10