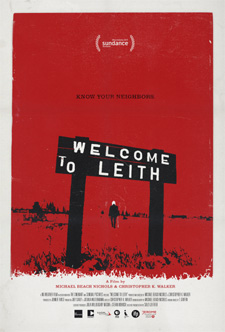 (August 26, 2015) First Run Features will release Michael Beach Nichols & Christopher K. Walker's documentary Welcome to Leith at IFC Center in New York on September 9, 2015, with other cities to follow.
Leith, North Dakota, is a ghost town with 24 residents. Its inhabitants are mostly farmers or ranchers, working land passed down from generation to generation. In 2012, an outsider named Craig Cobb moved in and started buying up property. He accumulated twelve plots of land, some empty, some with houses in various states of disrepair. People assumed he'd moved in to be close to the Bakken oil fields some 70 miles north. It turns out he was also a notorious white supremacist plotting a takeover of the city government in Leith. Shortly after his plans were unveiled by the Southern Poverty Law Center, a family of fellow white supremacists moved in to join his efforts.

As Cobb's behavior became more threatening, tensions soared, and the residents desperately looked for ways to expel their unwanted neighbor. With incredible access to both long time residents of Leith and white supremacists, the film examines a small community in the plains struggling for sovereignty against an extremist vision. That it takes place in the shadow of the biggest oil boom in North Dakota's history makes the film a complex document exploring unforeseen causes and effects.

Marc Mauceri, Vice President of First Run Features says, "Films like Welcome to Leith are few and far between: a carefully crafted, timely and highly provocative documentary with a story that's so hard to believe that you need to see it with your own eyes. For 36 years, First Run Features has targeted films like Welcome to Leith for acquisition; they are the reason we remain passionate about bringing films to audiences."

"...presents a chilling 'it could happen here' scenario..." - Rolling Stone
"[This] real horror story...brings new life to old news stories..." - The New York Times
"Haunting...creepily even-handed...a stunning portrait of First Amendment rights pushed to their extremes." - Indiewire
"A gripping you-are-there portrait of a community under siege...as engrossing as a fictional thriller." - Variety
"Entrancing... weaves a bizarre and enthralling tale." - Sound on Sight
Welcome to Leith


2015, USA, Documentary, English, 86 minutes, Digital


Directed by Michael Beach Nichols & Christopher K. Walker