Available on DVD November 17
A New Documentary About Ten "Ordinary" Women
Who Do Something Extraordinary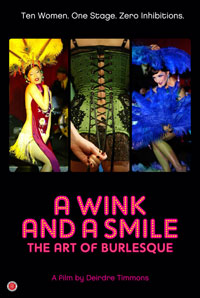 An intoxicating mix of private yearnings and public spectacle, the new feature documentary A Wink and a Smile exposes more than the human body by putting gender, power, and sexuality under the spotlight as it follows the lives of ten women who set out to learn the art of burlesque dancing and striptease.
Students of Seattle's Academy of Burlesque have just six weeks to peel and reveal their hidden talents with little more than a tassel and a twirl. Seasoned burlesque divas strut on stage in their own entertaining, satirical and beautiful performances to illustrate the candid and often hilarious lectures by the Academy's headmistress, Miss Indigo Blue.
As director Deirdre Timmons draws back the velvet curtain providing a rare glimpse into the intimate experience, audiences watch with glee as Miss Indigo's budding divas learn to shimmy, shake, bump and grind their way into our hearts. Through their adventures, we see how a homemaker, a reporter, a doctor, an opera singer, a taxidermist and a college student join the American cultural revival of burlesque, as it moves from fringe fascination to mainstream obsession, engaging a world where performance art and showgirl spectacle, music, theater and sensuality crash into over-the-top glamour – a world where many want to go, but very few dare.
Delighting in the juxtaposition of light and dark themes, musicals, comedy, and true stories that enlighten, educate and entertain, filmmaker Deirdre Timmons makes her directorial debut with A Wink and a Smile. Timmons has been an award-winning journalist for the past 15 years in Seattle. She now writes, directs, edits and produces full-time for the company she founded in 2007, Golden Echo Films.
Combining the skills of a photographer and an artist, Director of Photography Peter Waweru's cinematic abilities guarantee that no matter what he's shooting, he captures visual poetry in each shot. Waweru began his career as a photojournalist covering breaking news and feature stories in East and Central Africa. Waweru specializes in photography, cinematography, graphic design and editing for Golden Echo.
Jack Timmons hails from a background in aerospace and high-tech. He recently completed the Producing Program at UCLA after producing A Wink and a Smile. Timmons handles business development and producing for Golden Echo.
"A quest for sexy self-discovery." - THE NEW YORK TIMES
"Electrifying! Artful and subversive."- LOS ANGELES TIMES
"Highly entertaining and eye-opening! An old-fashioned post-modern hoot!" - VARIETY
"Colorful...outrageous performances!" - THE OREGONIAN
"

Revealing and genuinely erotic!" -NEWSBLAZE.COM
"This breathtaking doc just might be the sexy feel-good flick of the year." - SPOUT
"Endearingly bawdy! A window into the tantalizing world of contemporary burlesque."
- FLAVORPILL
"Lighthearted and humorous, but also an affirmation of the physical and emotional liberation the women realize as they explore and reveal their inner vamp and revel in their sexuality."
- ABOUT.COM

A Wink and a Smile
2008, 91 minutes, color, digital/video
A film by Deirdre Allen Timmons
Directors of Photography: Peter Waweru, Marie Joëlle Rizk
Producers: Jack Timmons, Deirdre Allen Timmons
Associate Producer: Abigail Carter
Editors: Deirdre Allen Timmons, Peter Waweru
Starring: Miss Indigo Blue, The Shanghai Pearl
Featured Performers: Miss Indigo Blue, The Shanghai Pearl, Tamara the Trapeze Lady, The Swedish Housewife, Waxie Moon, Vienna le Rouge, Lily Verlaine, Kitten la Rue, Inga Ingénue, Ernie von Schmaltz, Ultra
The Students: Diane Bruch, Casey Ellison, Janie Hanson, Megan Keller, Amy Klar, Vicky R. Moczi, Christi Jo Petrucelli, Sara Robinson, Rachel Shimp, Tami Veralund

UPC: 7-20229-91405-5
Catalog #: FRF 914055D
SRP: $24.95 /CAN.: $29.95
Street Date: November 17